Green Bay Packers: Predicting 2016 regular season record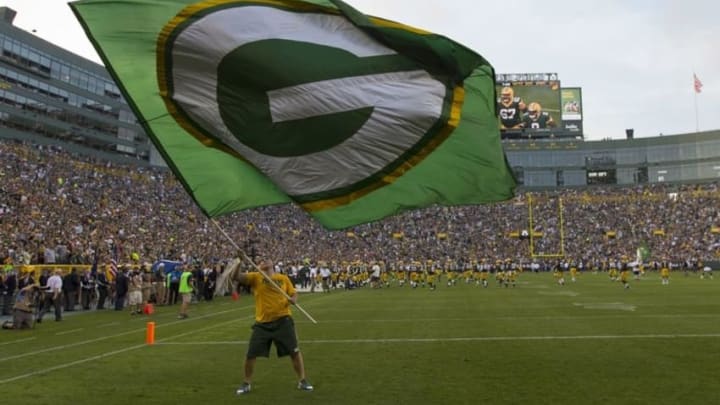 Aug 18, 2016; Green Bay, WI, USA; The Green Bay Packers take the field prior to the game against the Oakland Raiders at Lambeau Field. Mandatory Credit: Jeff Hanisch-USA TODAY Sports /
Nov 15, 2015; Green Bay, WI, USA; Green Bay Packers quarterback Aaron Rodgers (12) throws a pass under pressure from Detroit Lions defensive end Ezekiel Ansah (94) during the fourth quarter at Lambeau Field. Detroit won 18-16. Mandatory Credit: Jeff Hanisch-USA TODAY Sports /
Week 17
Green Bay Packers @ Detroit Lions
To end the year, we see the Lions again.
By now, in all likelihood the Packers will have locked up one of the top 2 seeds in the playoffs, so there may be some sentiment to rest players at this point; that would vastly adjust the way this game could go.
As I sit here now however, I think that at least one of the Seattle/Arizona/Carolina group will still be in position to challenge for that #1 NFC seed, so in that case there is still something to play for here, and Green Bay should be trying their damndest to make sure they have home-field advantage.
While the team can and has won difficult games on the road, forcing opponents to come to the frigid conditions of Lambeau field in January has the dual advantage of giving the Packers the confines of their own home while taking other teams out of their usual comfort zone in the pressure cooker of the playoffs could be enough to indirectly swing a close game in Green Bay's favor.
Just think: before Green Bay beat Seattle in 2015, a popular thought was that if any of the previous games against Wilson's Seahawks had been in Lambeau, the result might have been different.
Maybe the replacement refs feel more inclined to lean towards the home team in the Fail Mary game and don't call that a catch at the end, or the Seahawks lose just a bit too much of their energetic edge (an energy that could come even slightly from a raucous home crowd) that helped fuel their eventual playoff comeback; those games may end differently.
Maybe the home environment gives Rodgers a tiny bit of extra calmness against Carolina last year, and because of it he is able to see a wide-open Cobb on that final 4th down throw to try giving the team a chance to try a 2-point conversion to tie.
Perhaps the defense is able to hold their composure a smidgen more on the broken play where Carson Palmer found Larry Fitzgerald to pretty much seal the game, and it never gets completed, or possibly Coach McCarthy has a tad more confidence and uses it to push for a two-point conversion and try to steal the game in regulation.
Now that's all standard "what if?" speculation of course, but there are definite — if hard to legitimately quantify in any meaningful way — advantages to making your opponents come to you in January, and even if that is built on faulty logic (the full extent of that advantage usually tends to be), teams and their players definitely believe in it, so it does matter on a certain level regardless of the actual impact.
Even if they want this game though, it doesn't necessarily mean they'll win it. As I mentioned earlier, Detroit has been the most consistent thorn in Green Bay's side out of their three division rivals (at least on the field), and Ford Field has been a relative house of horrors for the Packers in that time.
That field is where they knocked out Rodgers with a concussion in 2010, blew Green Bay off the field (w/o Rodgers) 40-10 in 2013, shut the offense down in a 19-7 2014 win, and forced the team to create the Miracle in Motown to prevent yet another loss there last year.
With the Bridgewater injury in Minnesota, I think the Lions will actually end up as the #2 in the NFC North at season's end despite having to adjust to life without Calvin Johnson, and though I'm not seeing a playoff berth they could be right there at the end.
They don't seem like a group that will roll over — especially considering who they are playing — and should play their asses off to try at the very least to spoil Green Bay's hopes of the top NFC playoff seed.
This could be one of those games where the limitations of David Bakhtiari at LT are put under the spotlight; Ezekiel Ansah is a star, and could power through him to make a few plays.
If they get pressure on Rodgers, DeAndre Levy — if he has proven healthy and back to his previous high level by then — should be there to take away the easy underneath routes, and Darius Slay and Glover Quin could make a couple plays in coverage if he tries to take too much over the top.
If their defense is on point, the Detroit offense wouldn't need to do much beyond hitting Golden Tate and Marvin Jones for decent gains and milking clock.
The score shouldn't be high — most times where we see Detroit win over the Packers, it isn't — and we end a strong regular season on a somewhat sour note; fortunately, with their strong record, it likely (hopefully) won't actually end up making too much difference in the seeding for the playoffs.
Detroit 17
Green Bay 13
Green Bay Record: 13-3
……..
Enjoy Week 1 everybody!