Why Green Bay Packers defeated NY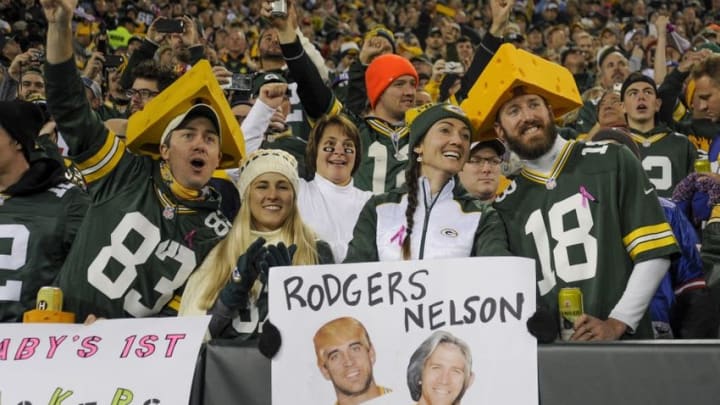 Oct 9, 2016; Green Bay, WI, USA; Green Bay Packers fans cheer during game against the New York Giants at Lambeau Field. Mandatory Credit: Benny Sieu-USA TODAY Sports /
Oct 9, 2016; Green Bay, WI, USA; Green Bay Packers wide receiver Randall Cobb (18) rushes with the football around New York Giants /
Cobb Comes Alive
Since 2015 started, Randall Cobb has not been the same guy who destroyed defensive game plans from the slot for years.
From 2012-2014, he had averaged 5.5 catches on 7.5 targets, 72.3 yards per game, 0.7 TD catches, and converted 3.6 first downs per game across 37 contests.
In 2015, however, he had a notable drop-off: while his catches (4.9) and targets (8.1) were in the same general range, his receiving yardage (51.8), touchdowns (0.4), and converted first downs (2.6) all saw dramatic drops on a per-game basis.
With Jordy Nelson back after his torn ACL and his own health situation returning to normal (he dealt with a shoulder injury all of 2015, while also getting knocked out of the playoff game versus Arizona), Cobb was expected to hit the ground running and return to his pre-2015 form.
Through three games, that had not happened, however.
For whatever reason, Cobb had dropped beyond even his 2015 performance before the bye week: in those three games he averaged 4 catches on 6 targets, 44 receiving yards per game, 0 touchdowns, and 2 converted first downs.
Unlike 2015, we couldn't look to injuries to or around him for the low production, so it had been confounding to witness someone who formerly tore apart coverages throughout his career become so lackluster.
With a bundle of other wideout options in tow (7 total including Cobb) and the offense struggling to find consistency, the idea had to be coming into some people's heads that maybe the team should try involving the younger players more often at his expense.
This game should put that to rest.
With Rodgers being off to a surprising degree and his receiving counterparts (including Nelson) struggling to keep the ball in their hands, Cobb put up the type of performance the team direly needed.
He was targeted 11 times (a first for this year), catching 9 of them (his most since Week 16 of 2014). He garnered 108 yards (most since Week 2 of 2015).
He didn't get a TD catch (he would have, but it was nullified due to off-setting penalties), but he racked up an impressive 6 first downs (doubling his season total).
Those first downs might be the most important facet of his contributions. He converted two on the opening scoring drive, a third on the drive with his nullified TD, one on each of the final two field goal drives, and the one on the final drive to seal the game.
Those first downs are illustrative of just how valuable Cobb can be to this team when he is playing well. His contributions keep the offense moving — something they have massively struggled to do the past couple years, where quick three-&-outs have become an unsavory mainstay in Packers games — and provides his quarterback a reliable safety valve to turn to who can beat underneath coverages and take advantage of mismatches as well as practically anyone who primarily works out of the slot.
If this kind of performance is not just a blip against an undermanned pass defense, but instead a return to his previous norms, the Green Bay offense may be able to rediscover their prior dangerous nature after all.