Packers Fans in Illinois: Bet $10, Win $200 if We Score ONE TD vs Rams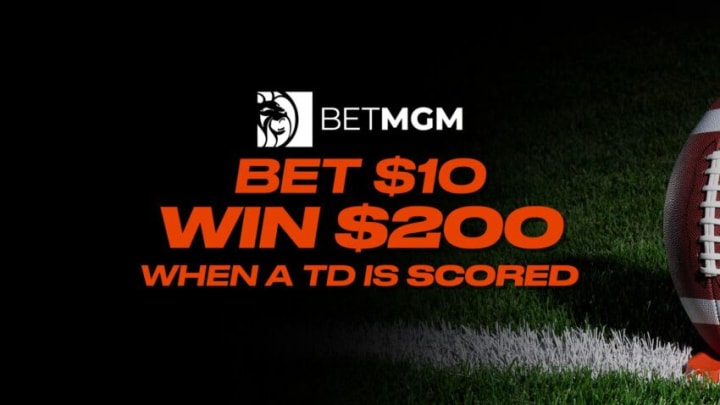 The Packers find themselves big favorites against the struggling Rams in Week 15. For all those Packers fans in Illinois, BetMGM has something special to get your blood pumping for the matchup: Bet $10, Win $200 if we score at least one TD vs. the Rams!
Here's how it works and what to do:
BetMGM Illinois
If you wager $10 or more on any Packers vs. Rams bet, you'll win $200 in free bets from BetMGM if we score at least one TD in the game! Yeah, that's +2000 odds for any Packers TD!
Just follow these simple steps and you'll be in line for a +2000 win:
Verify your identity
Deposit at least $10
Wager $10 (or more) on any Packers vs. Bears bet
Then, you'll automatically receive $200 in free bets if Green Bay scores at least one TD in the game!
The Packers have at least 28 points in back-to-back games, so it's a pretty safe bet that we'll find the end zone AT LEAST once.
It doesn't matter who scores or if you win or lose that initial bet. As long as someone finds the end zone for a TD, you'll be credited with $200 in free bets.
Only new BetMGM users in Illinois qualify – sign up for BetMGM now to secure +2000 odds for anyone to score a TD!
DraftKings Promo Code Illinois
Don't worry if you already have a BetMGM account. As long as you bet at least $5 on the Packers' moneyline to beat the Rams, you'll win $150 in free bets from DraftKings if Green Bay wins!
The steps are just as easy as the ones above:
Complete the identity verification
Deposit $5 or more
Bet at least $5 on the Packers' moneyline vs. the Rams
Green Bay's current odds are -215. Normally, a $5 bet on a favorite that large would only profit a couple of bucks.
DraftKings' special promo means you'll profit $150 from that same $5 bet if the Packers win! You won't find a value that good anywhere else.
Considering the Packers are fighting for the playoffs and the Rams are mailing it in, this feels like a safe bet. If you'd rather back a different team's moneyline though, this promo is valid for any NFL team to win this week!
Only new DraftKings users can claim this stellar offer and the clock is ticking. Sign up for DraftKings now to get $150 from a Packers win before it's too late!
It's so easy to secure a free $350 from these two sportsbooks, it almost doesn't feel real. But it is! The holidays came early this year, so take advantage of this tremendous opportunity and sign up for both sportsbooks now!
Game odds refresh periodically and are subject to change.