Jclombardi highlights Packers headlines day after loss to Bears.
Packers couldn't handle their own hype: This was an epic collapse for a team that has its sights set on the Super Bowl. The Packers set a team record with 18 penalties, wiping out Finley's touchdown as well as two fourth-quarter turnovers. Their special teams gave up two long kick returns, including Hester's 62-yarder for touchdown. Receiver Jones' fumble both scuttled Packers' potential game-winning drive and set up Bears' winning field goal. "We lost our composure," receiver Jennings said. "Anytime you have that many penalties and mistakes, you've lost your composure." They were an undisciplined mess. It's true that rookies committed both penalties that overturned both turnovers. Linebacker Zombo's hit to Bears quarterback Cutler's chin nullified Barnett's interception. A pass interference call against safety Burnett put the Bears in position for Gould's game-winning 19-yard field goal. Rodgers contributed to the mess. His intentional-grounding penalty pushed the Packers back 10 yards on the play prior to Jones' fumble.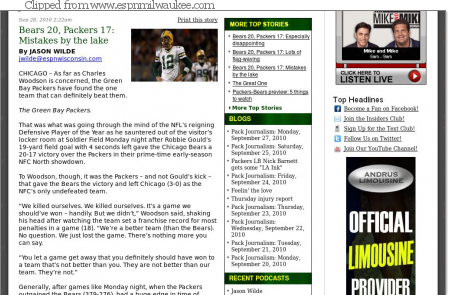 Bears 20 Packers 17–Mistakes by the lake: Generally, after games like Monday night, when the Packers outgained the Bears (379-276), had a huge edge in time of possession (35 minutes, 49 seconds to 24 minutes, 11 seconds) and essentially gave away the game on wide receiver James Jones' fumble with 2:18 left to play, the losers go through the motions of giving the winners credit. But after Monday night, those clichés were in short supply. "We can't shoot ourselves in both feet and win a 100-yard race," said linebacker Nick Barnett, whose potential victory-clinching interception with 6:38 left in the game was wiped out by a roughing-the-passer personal foul penalty on rookie linebacker Frank Zombo. Or, as wide receiver Greg Jennings put it, "You only have so many shots to kill yourself, and we did everything in our power to beat ourselves as far as penalties, fundamentals."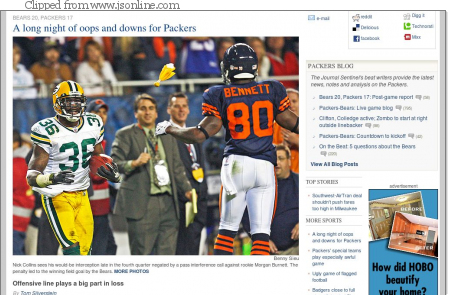 Long night of oops and downs for Packers: The combination of ends Peppers and Anderson driving blockers into the backfield and coach Mike McCarthy eschewing the running game for a spread offense spelled disaster for the Packers. What started out as a good night offensively proved to be temporary as the Packers slid down a slippery slope and ended up playing right into the Bears' hands. Despite outgaining the Bears, the Packers scored just once in the second half. The offensive line played a huge part in the loss as Peppers, Anderson and Idonije continually pushed tackles Tauscher and Clifton into the backfield and within a hair of quarterback Rodgers. McCarthy went to a spread game against the Bears and dared them to blitz. Instead, the Bears played heavy zone coverage and mostly rushed four. Rodgers didn't complete a single pass to a wide receiver longer than 18 yards. The offensive line had eight penalties–three of them holding and four of them false starts. It appeared the group wasn't up for the challenge.