With the NFL 2014 Draft still a ways off … a long ways off – there's still much to talk about and project. Just who will the Green Bay Packers select when their name is called at the 21st pick.
Names continue be bandied about – a process that will continue between now and then, but there are clear front-runners and 99 percent of them reside on the defensive side of the football. I trolled the Interweb today to find who so many others are rooting for to be the next Green Bay Packer.
Here's a sampling of what I found …
By Brian Mazique, Bleacher Report Featured Columnist
21. Green Bay Packers: Eric Ebron, TE, North Carolina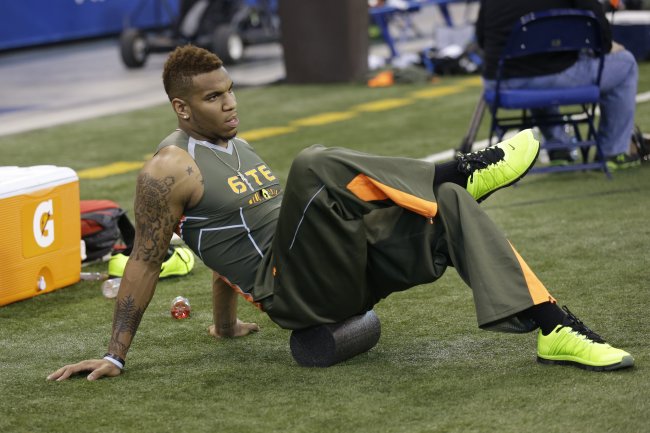 Nam Y. Huh/Associated Press
Giving Aaron Rodgers another weapon at the tight end position would be bad news for the league.
Jermichael Finley is a free agent, and his future is up in the air after a scary neck injury. Ebron is clearly the most dynamic athlete at the position in the draft. At 6'4″ 250 pounds, he ran a 4.60 40-yard dash at the combine.
The performance made him one of the biggest stars of the third day at the combine. He'd be an excellent selection for the Packers here.
Ranking Packers' Top 10 Potential First Round Picks
Getty Images
The 2014 NFL Draft is only a couple of short months away, which means the Green Bay Packers have to get their draft board ready. Green Bay will have a great opportunity to select a talented prospect with the 21st overall pick who can have an immediate impact this year. At this point, it is just a matter of which players will be available when it is their turn to be on the clock.
The Packers already have a good idea of which players can be a difference maker for their ball club. Unfortunately, there is a good chance some of those players will not be available. The biggest area of need for Green Bay is safety and defensive line. Regrettably, that also happens to be what a number of other teams will be targeting in the first round. The Packers could try to move up but that's not exactly general manager Ted Thompson's style. Instead, Green Bay will simply have to select the best defensive player within their need at the No. 21 overall selection.
The ensuing slideshow is a ranking of 10 players the Packers should select in the first round. As you can imagine, it is mostly filled with defensive players who could provide help right out of the gate. It is important to note that the 10 players listed are all within Green Bay's range at No. 21. Obviously, Jadeveon Clowney would look great in green and gold but that is simply not going to happen. Some of the players on the countdown could be long gone before the Packers are on the clock. The truth is there is really no telling what could happen on draft day.
Walterfootball.com

Green Bay Packers: Louis Nix, NT, Notre Dame


The Packers spent last year's first-round pick on a defensive lineman, but that doesn't mean that Ted Thompson won't double dip there. B.J. Raji happens to be a free agent, and his price tag is simply too high for Green Bay. Louis Nix is a steal here for the Packers.
By IAN HANLEY of packerstalk.com
Round 1: Ra'Shede Hageman, DE/DT, Minnesota
6'6" 318
The idea of having the Packers select a safety in the first round was pretty tempting, but I didn't for one reason, and that is because at this point I don't think Calvin Pryor or Ha Ha Clinton Dix will be there when the Packers pick at 21.
The Packers need help along the defensive line, and Hageman, who has the size and versatility to play defensive end or nose tackle in the Packers' 3-4 scheme, could be the pick. Hageman has the strength and nasty streak to win one on one matchups, and probably could be compared to a younger, taller, more athletic Johnny Jolly.
The biggest knock on Hageman is his inconsistency. At times he can look like the most dominant player on the field, but he can also have stretches where he completely disappears. The Packers coaches will need to find a way to get the best out of him on every play.
With the 21st pick in the 2014 NFL Draft, who do the Green Bay Packers select?
Yes, it's tempting to take either Mike Evans (WR, Texas A&M) or Jace Amaro (TE, Texas Tech) in this scenario, but Evans will obviously be gone in real life by this time, and receiver is still a very deep position for us. And yes, we do need a TE of the future with the uncertainty surrounding Jermichael Finley, but there's much bigger holes on the defensive side of the ball, so I'm going with Jason Verrett (CB, TCU).
If Clinton-Dix is still on the board, I'd probably go with him, but he's not, and while I like Calvin Pryor (S, Louisville), I need a better center fielder than thumper in the box, so I'm going with the best corner available.
With Verrett, I'll be able to cut Tramon Williams and his $7.5 million cap hit, and I'll have a very solid trio of Sam Shields (whom I'm about to re-sign), Verrett and nickel back Casey Hayward.
There's disagreement as to whether Louisville's Calvin Pryor or Alabama's Ha'Sean Clinton-Dix is the No. 1 free safety in the draft.
… if Pryor is on the board at No. 21, expect Thompson to snatch him up. It's entirely possible that Pryor is a better fit for Green Bay than Clinton-Dix, regardless. He's an incredibly physical tackler who takes correct angles on his tackles and can defend the run as well as the pass, excelling in man-to-man.
He's a game-changer for Green Bay's struggling secondary who would make an immediate impact, and with both need and value such a plus, Thompson will be hard-pressed to pass on him.
Here's an interesting look at the Packers first – and second rounds …
We begin with a trade with the Cleveland Browns…
Packers trade: 1st round pick (21st )
Browns trade: 2nd round pick (35th) and 3rd round pick (71st)
2nd Rd. 35th pick TE TROY NIKLAS (Notre Dame)
STRENGTHS Outstanding size with a well-proportioned, muscular build. Big target over the middle and in the red zone. Athletic with flexible hips and knees to run the full tight end route tree. Bursts into routes and stretches the seam. Good hands. Has playmaking ability. Lined up flexed and in-line. Good potential as a blocker. Bends his knees, shuffles and fans rushers wide. Works well in tandem and can combo block effectively. Takes care of his body and maintains low body fat. Has NFL bloodlines.
http://www.nfl.com/draft/2014/profil…las?id=2543628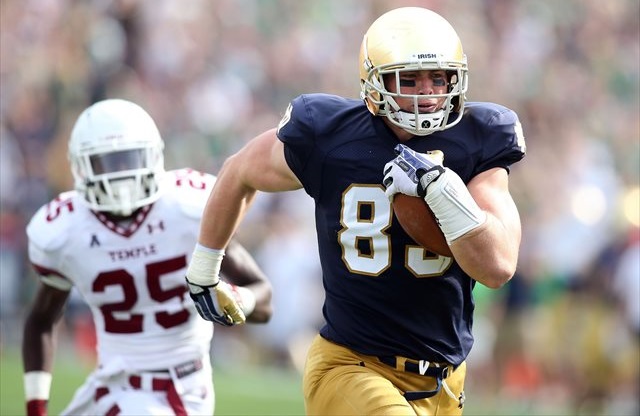 2nd Rd. 53rd pick FS MARQUESTON HUFF (Wyoming)
STRENGTHS Lean, athletic build. Fluid and sudden with terrific balance. Outstanding speed — carries receivers vertically and flies around the field. Sudden plant and drive. Can elevate to contend in the air and make athletic interceptions. Does not hesitate to support the run. Scheme versatile. Sharp mentally. Three-year starter. Rose to the occasion against better competition and produced big against Nebraska.
http://www.nfl.com/draft/2014/profil…uff?id=2543776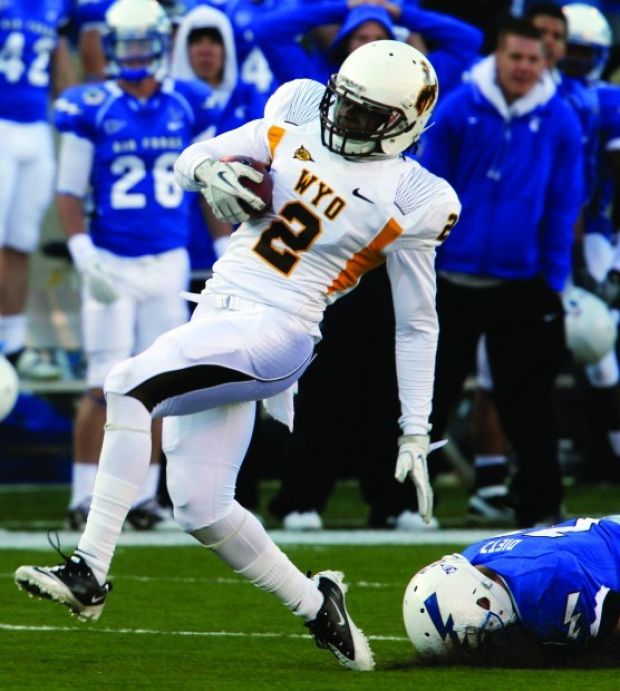 Tags: Green Bay Packers NFL Draft