Green Bay Packers: Predicting 2016 regular season record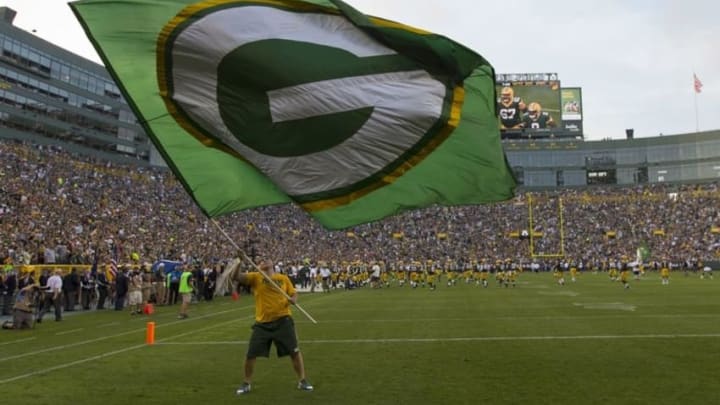 Aug 18, 2016; Green Bay, WI, USA; The Green Bay Packers take the field prior to the game against the Oakland Raiders at Lambeau Field. Mandatory Credit: Jeff Hanisch-USA TODAY Sports /
Dec 27, 2015; Glendale, AZ, USA; Green Bay Packers quarterback Aaron Rodgers (12) reacts alongside offensive guard T.J. Lang (70) against the Arizona Cardinals at University of Phoenix Stadium. The Cardinals defeated the Packers 38-8. Mandatory Credit: Mark J. Rebilas-USA TODAY Sports /
Week 13
Houston Texans @ Green Bay Packers
In the first of two marquee home games on the schedule, Green Bay finds themselves matched against what has the potential to be a formidable Houston team.
With this team, you obvious have to start with their defense. They ranked #4 in Weighted Defensive DVOA for 2015, holding opponents to 10 points or less on 7 occasions.
The unit is led by J.J. Watt, who's list of accomplishments could already be a book; three-time Defensive Player of the Year, 74.5 sacks (including two 20.5 sack years), 45 pass defenses, 15 forced fumbles, 12 fumble recoveries, and has graded no lower than 87.7 (including 93.5 in 2015, when he played through multiple injuries) on PFF's 0-100 grading scale.
The unit is more than just Watt, however. Jadeveon Clowney and Whitney Mercilus rush the passer, long-time Patriot Vince Wilfork eats up space in the middle, and Johnathan Joseph remains a high-quality cornerback on the outside.
What the team hopes takes them to another level and firmly entrenches them atop the AFC South for the near future though is the offense. Houston ranked only #24 in Offensive DVOA in 2015 (#24 Weighted), and though they already have an elite receiver in DeAndre Hopkins, the team lacked any consistency elsewhere on the unit.
To replace the 4-QB cluster that started last year, the team paid Brock Osweiler handsomely; by this point in the year, we should have a pretty good idea if that was a mistake.
They also shelled out cash and draft capital for weaponry for their new QB; Lamar Miller has been a per-carry beast for years in Miami and should finally get the usage his numbers deserve, while Will Fuller gives the offense a deep element they sorely lacked.
Behind an offensive line that has the talent to do better than their middling rankings in 2015 would show, there is reason to believe Houston's moves will pay off.
The Packers will have to hope their offensive line holds up against the Watt onslaught; that may be wishful thinking, especially if he proves to this point in the season that he hasn't been negatively affected by his offseason surgeries.
Even if they throw ree guys at him, he might still make plays, and guys like Mercilus and Clowney will get chances to take advantage of singular matchups. Even the best lines can have bad days, and this feels like this could be one of those games where a lot goes wrong.
Rodgers will still manage to make some plays regardless (he tends to do that), but with an endless pass rush bearing down on him he probably won't have much time to find Nelson deep, and we could see a game where the offense regresses to what we saw in most of 2015.
Even when we didn't have a season like 2015 to put that kind of worry on us, when teams could load up with pressure up front in previous years and force the Packers to win in 1-on-1 matchups in crowded coverage (think about games vs Buffalo in 2014, or any of the Suh-Lions defenses; they routinely did just that, and used that formula to either win or keep the game close).
As long as their offense keeps the ball in their own hands, Houston has enough to give Green Bay their second loss of the year, and their first at Lambeau in 2016.
Houston 19
Green Bay 9
Green Bay Record: 10-2
Next: Packers vs. Seahawks