Green Bay Packers: Predicting 2016 regular season record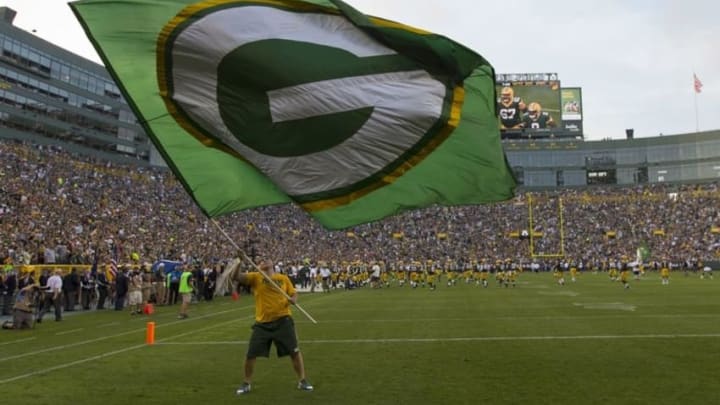 Aug 18, 2016; Green Bay, WI, USA; The Green Bay Packers take the field prior to the game against the Oakland Raiders at Lambeau Field. Mandatory Credit: Jeff Hanisch-USA TODAY Sports /
August 26, 2016; Santa Clara, CA, USA; Green Bay Packers wide receiver Jared Abbrederis (84) is congratulated by wide receiver Trevor Davis (11) for scoring a touchdown against the San Francisco 49ers during the third quarter at Levi /
Week 1
Green Bay Packers @ Jacksonville Jaguars
The first week of the year tends to be one of the toughest to gauge.
The most recent games we've seen with any importance to their outcome were at least 7 months ago (and even more for those who weren't on deep playoff runs), and everything since has been built on either pure speculation & projection combined with the watered-down game-planning & performances brought to us through the preseason.
Combine that with the increasing lack of use of established players in that preseason, and it can tend to take awhile for teams to show just how good they might actually be.
That could be especially important to consider with Green Bay; Aaron Rodgers saw a couple of series total in the preseason, Jordy Nelson didn't see much action either, and there are numerous others who had to miss time at various points due to injuries.
All of these players are going from little action to a full game's worth of snaps, and that could easily show itself to be a detriment to the team's chances of victory.
This hasn't even considered the players lining up across from the Packers either. The Jaguars are a team which many are considering a trendy pick to finally wake up from their long-term doldrums and become a competent team once again.
On offense, Allen Robinson is the real deal; he was Pro Football Focus' 13th-best receiver in 2015 behind 80 catches, 1,400 yards and 14 TDs, and could become even better this year. The talents of him and Allen Hurns (17th in PFF rankings; 64 catches, 1,031 yards, 10 TDs) will be hard to stop, even for a Green Bay secondary that ranked #6 in Pass Defense DVOA for 2015 and is built around veteran Sam Shields (16th in PFF CB rankings) and numerous young players who should continue getting better.
On defense, the combination of talented new faces on all levels in Dante Fowler Jr., Malik Jackson (11th in PFF Defensive Interior rankings for 2015), Myles Jack, and Jalen Ramsey among others could cause problems for an offense that had plenty of them in 2015.
As much as this team looks like it could (should?) become a terror going forward, the team may not be ready to succeed on that level right off the bat.
The defense has to show it is as good as the sum of its parts looks to potentially be, and an offense led by Blake Bortles must show it can perform to the heights of its stellar numerical outputs of 2015 without first falling behind on the scoreboard (while the raw numbers were mostly impressive, Jacksonville only ranked #23 in Offensive DVOA; that is evidence of a team inflating its statistics in less meaningful situations).
I think this week we'll see the Packers take it slow (relatively) on offense, grinding things out behind what should be an improved running game (a slimmer Eddie Lacy averaged 5.7 yards per carry in limited preseason action) and allowing themselves to rediscover their natural passing game flow from years past (especially on play-action passes; the team ranked last on these plays in 2015 after ranking #2 in 2014).
Jacksonville might get things close late, but I think some key mistakes from young QB Blake Bortles (the league leader in INTS for 2015 with 18) eventually seals the deal for the Packers.
Green Bay 30
Jacksonville 20
Green Bay Record: 1-0
Next: Packers vs. Vikes