Green Bay Packers: Predicting 2016 regular season record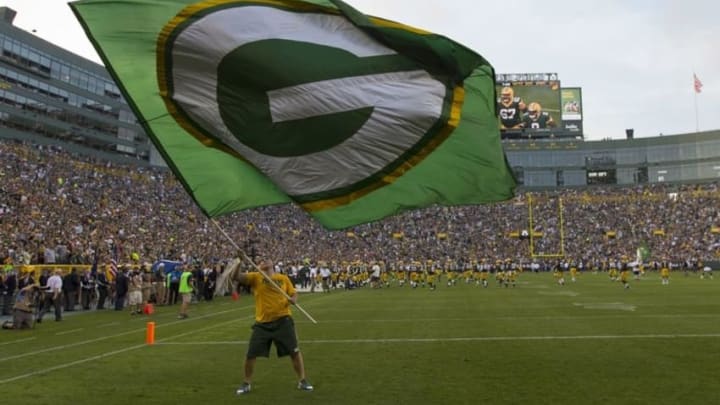 Aug 18, 2016; Green Bay, WI, USA; The Green Bay Packers take the field prior to the game against the Oakland Raiders at Lambeau Field. Mandatory Credit: Jeff Hanisch-USA TODAY Sports /
Jan 3, 2016; Green Bay, WI, USA; Minnesota Vikings running back Adrian Peterson (28) rushes with the football during the third quarter against the Green Bay Packers at Lambeau Field. Minnesota won 20-13. Mandatory Credit: Jeff Hanisch-USA TODAY Sports /
Week 2
Green Bay Packers @ Minnesota Vikings
A few weeks ago, this looked to be the kind of marquee game that could give us an early insight into whether the Packers or Vikings would be the King of the (NFC) North for the foreseeable future.
Then, Teddy Bridgewater's knee disintegrated; with it, the Vikings' dark horse hopes for a Super Bowl run probably did as well.
Despite that gruesome injury though, this team should still be formidable.
The team went out and traded for a short-term replacement in Sam Bradford to lead the offense, and his style as a passer is somewhat comparable to what the Vikings had in Bridgewater; both are adept at short-yardage passing while struggling to open up the field deep, and their teams' passing offenses were relatively middling-at-best (MIN was 19th in Pass Offense DVOA for 2015; PHI was 26th).
But while Bridgewater looked poised to have a chance at making a huge step forward in the QB hierarchy, Bradford probably is what he is at this point, which limits any growth the offense as a whole may have been hoping for.
This will likely be okay most weeks though, because the Vikings still have Adrian Peterson (1,485 yards, 11 TDs in 2015) and without having to worry about trying to feature Bridgewater more he should be even more heavily relied upon by the offense. He isn't as good as he used to be (PFF ranked him #18 among RBs, mostly due to lacking pass blocking and receiving abilities), but barring injury he'll be as hard to take down as ever when he runs.
The real reason to worry about this team is the defense.
Mike Zimmer has crafted a unit full of young, multi-talented players throughout who can mess up even the best offense's day, and they should only improve with age and experience.
Harrison Smith is one of the best safeties in the league, Anthony Barr is a terror in all facets of the game, and guys like Danielle Hunter, Everson Griffen, Sharrif Floyd, and Linval Joseph will apply steady pressure on a quarterback and his line.
Zimmer is also one of the few coaches who have consistently been able to slow down Rodgers-led offensive attacks over the years; Rodgers is 3-3 with 1,343 yards, 10 TDs, 3 INTs and a 59.2% completion percentage, and in two games last year (1-1) he was sacked 7 times.
Even without their expected starter at QB, this will be a difficult matchup for Green Bay.
I expect it'll be close, and the deciding factor will likely be how their defense holds the fort against Peterson.
Should they slow him down and force the Vikings to play from behind, their talented secondary will be able to attack a Minnesota passing game that should still struggle to attack deep; if they don't, the Vikings can wear down a run defense that is comprised of multiple new faces that need to prove they can do better against the run than their predecessors (even with better run defense play in 2015, the Packers still ranked just #19 in Rush Defense DVOA).
Peterson has proven more than able to punish this defense before even without consistent passing game help, so for now I would lean towards expecting more of the same, giving the Packers their first loss of the year and putting them in an early hole in the race for the division.
Minnesota 17
Green Bay 13
Green Bay Record: 1-1
Next: Packers vs. Lions