Green Bay Packers: Predicting 2016 regular season record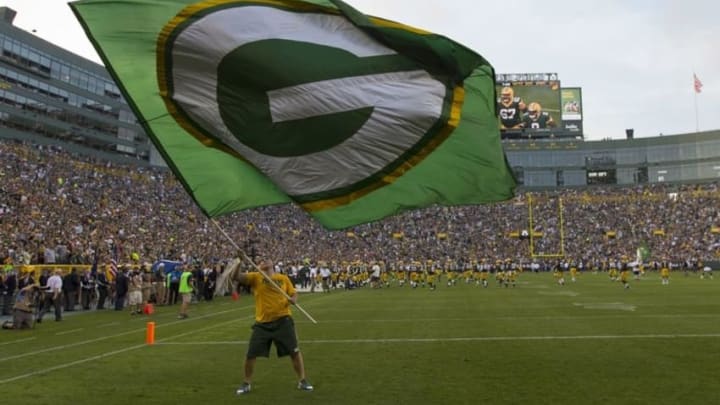 Aug 18, 2016; Green Bay, WI, USA; The Green Bay Packers take the field prior to the game against the Oakland Raiders at Lambeau Field. Mandatory Credit: Jeff Hanisch-USA TODAY Sports /
Dec 8, 2014; Green Bay, WI, USA; Atlanta Falcons running back Devonta Freeman (24) is tackled by Green Bay Packers cornerback Casey Hayward (29) in the third quarter at Lambeau Field. Mandatory Credit: Benny Sieu-USA TODAY Sports /
Week 8
Green Bay Packers @ Atlanta Falcons
After spending over a month at home, Green Bay finally hits the road again to face a Falcons team that is somewhat hard to gauge.
Atlanta is about as inconsistent as they come. Last year they started off with a 6-2 record that felt somewhat facetious; in the following 2-6 stretch, it was an obvious underperformance.
The team has a couple big-time players who always perform well — Julio Jones on offense, Desmond Trufant on defense — but are mostly constructed with players who can perform well but struggle to do so on a consistent basis.
Matt Ryan was widely lauded during his early career, but in recent seasons he has been the epitome of inconsistency, mixing in mind-numbing turnovers out of nowhere with high quality play in seemingly random intervals.
Devonta Freeman showed up as an exciting running back option last year, but fell off mightily in the 2-6 ending stretch to 2015 (First 8 Games: 152 carries/709 yards/9 TDs, 40 catches/353 yards/1 TD; Final 8: 112/352/2, 33/225/2). Looking at their lineups on PFF, you see a lot of yellow (meaning: average) on both sides of the ball.
This team may not be quite ready to step up and challenge in their division, but they have undoubtedly made steps to improve on last season's outfit.
Their offensive line has been a major problem spot for years, so they added Alex Mack at center; putting him with 2015 additions Chris Chester, Jake Matthews, and Andy Levitre — plus standout right tackle Ryan Schraeder — could give the team their best line in a long time.
They spent big money on Mohamed Sanu to hopefully give them a reliable #2 receiver. Freeman should be more consistent in his third season, and Tevin Coleman could manage to be a decent #2 option behind him.
Their defense has the most room for growth though. Coach Dan Quinn's unit ranked #22 in Weighted Defensive DVOA for 2015, but have added draft picks (Devondre Campbell, Deion Jones, Brian Poole) and veterans (Dwight Freeney) to help take them to a higher level. On the defensive line, Adrian Clayborn played decently last year after floundering in Tampa Bay, and Grady Jarrett has gotten buzz as a potential breakout player.
With time, this could become a pretty good unit, especially once 1st rounder Keanu Neal is able to join the team on the field after a knee injury.
We may see some signs of improvement from them, but they likely won't reach a high enough level of consistency to be much of an issue for this game.
Right now, the defense has nobody past Trufant that we know for sure will perform at a high level; the back seven should be especially ripe for the picking.
If Trufant gets matched on Jordy, that could be a 50-50 proposition, but if he's proven healthy and in good form by then Nelson should still manage to make some plays; beyond that matchup, the Packers should dominate with their litany of talented receiving options. The running game should also have a good shot at getting going too, punishing a lacking front four.
The Falcons' best chance of making a game of things relies mostly on the same formula as the last matchup between these two: a massive dosage of Julio Jones (11 catches, 259 yards, 1 TD). If he and Ryan can connect consistently, they can force the coverage to shift towards Jones more and open holes elsewhere for less heralded guys.
While I respect the hell out of Jones' talents though, I don't see him dragging the team to victory on his own against a team like Green Bay, which has far too many options on offense for their suspect-at-best defense to slow down.
Expect this to be the kind of game where the non-Nelson receiving options put up numbers (with Nelson possibly doing well too) and the running game gets enough burn to keep everything balanced.
Green Bay 41
Atlanta 24
Green Bay Record: 6-1
Next: Packers vs. Colts