Why Green Bay Packers defeated NY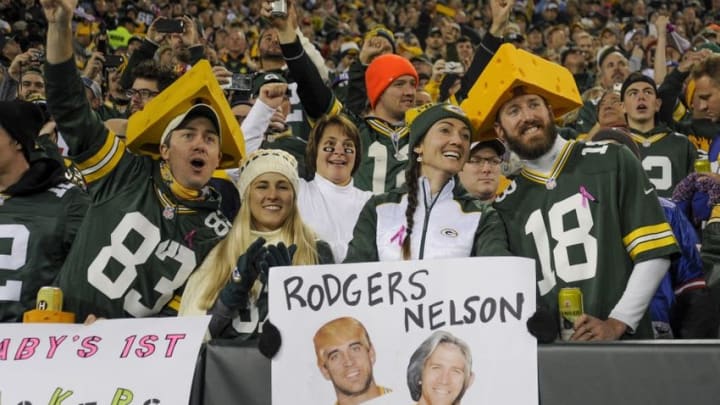 Oct 9, 2016; Green Bay, WI, USA; Green Bay Packers fans cheer during game against the New York Giants at Lambeau Field. Mandatory Credit: Benny Sieu-USA TODAY Sports /
Oct 9, 2016; Green Bay, WI, USA; Green Bay Packers running back Eddie Lacy (27) runs for yards in the first quarter during the game against the New York Giants at Lambeau Field. Mandatory Credit: Benny Sieu-USA TODAY Sports /
Early Running
The offense struggled in a ton of different aspects despite itself for most of the game. Beyond the first drive, they couldn't find much that worked with any consistency — especially in the passing game. A big reason they managed to survive the struggles of Rodgers and his receivers though was the running game.
In the 1st half, beyond the first drive and the 2nd TD toss for Rodgers, it was the running game which was key to the team moving the ball much at all.
On 15 called rushing plays, the team racked up 99 yards; if you include the two scrambles by Rodgers, that number rises to 117.
Most of this effort was provided by the resurgence Eddie Lacy, who appears to have found midseason form much earlier than before. He accounted for 8 of those early rushes, and piled up an exceptional 77 yards.
Not a single one of those went for negative yardage, only two were under four yards, and three of the eight went for 10+.
His bulldozing power was on full display on a 31 yard rush where he ran through a handful of Giants, bouncing off hits all the way down the field.
With the running game keeping the ball moving effectively, the Packers had at least one facet to turn to offensively, and that helped the team build up a 17-6 lead going into halftime, running off a ton of clock in the process (1st half time of possession: GB 20:02, NY 9:58).
With the Giants not having the ball much early, it likely helped prevent them from finding any rhythm to attack a depleted Packers defense too, and that may have been even more valuable as the game progressed.
If the passing game continues to struggle with consistency, Lacy and the ground game are proving to be an undeniable asset to which they can turn.