Packers: Ranking the 5 best performances in divisional-round win vs. Seahawks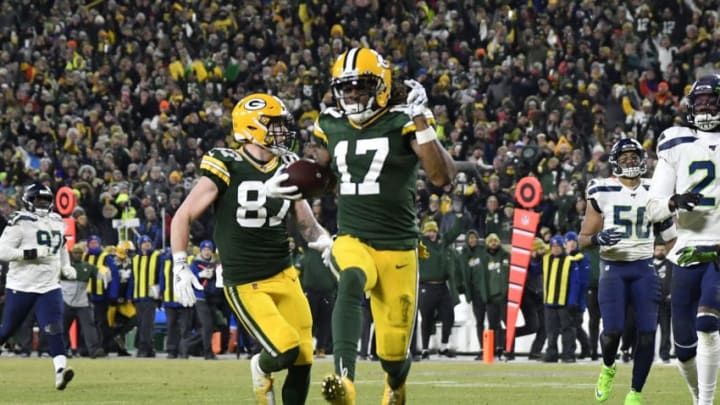 Green Bay Packers, Davante Adams (Photo by Quinn Harris/Getty Images) /
Green Bay Packers, Matt LaFleur (Photo by Quinn Harris/Getty Images) /
The Green Bay Packers are moving on to the NFC Championship Game. Which players showed up big in the playoff win?
The cardiac Pack has struck again and pulled out another close, one-score game. Thanks to some amazing throws by our two-time MVP, the Packers were able to put the Seahawks away with a final score of 28-23.
The Packers got rolling early, jumping out to an 18-point lead going into halftime. On the back of a balanced attack, the offense was able to move down the field with relative ease and score three touchdowns before the half.
The defense kept Seattle out of the end zone giving up only a field goal before the break. The Packers harassed Russell Wilson all night long, taking advantage of a beat-up Seattle line. If not for the escapability of Wilson, the Packers may have finished with more than the five sacks they had.
After the half, Pete Carroll and Brian Schottenheimer put the ball in the hands of their MVP candidate and got the offense rolling.
The Packers nearly doubled the time of possession in the first half of the game, but the teams then reversed roles with Seattle holding the ball for much of the second half, wearing down the Packers defense. Wilson was an escape artist, slipping out of many near sacks to keep drives and the Seahawks' hopes alive.
In the end, the defense did just enough to keep the Packers ahead while Aaron Rodgers closed out the game.
Here are the top five players from the divisional-round victory.