Packers 53-man roster predictions two weeks before season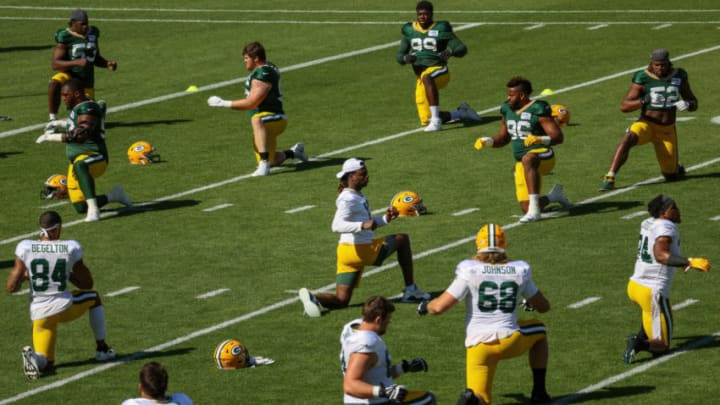 Green Bay Packers (Photo by Dylan Buell/Getty Images) /
Green Bay Packers, Stanford Samuels, Josh Jackson (Photo by Dylan Buell/Getty Images) /
Cornerbacks (6)
Jaire Alexander, Kevin King, Chandon Sullivan, Ka'dar Hollman, Josh Jackson, Stanford Samuels
The Packers' cornerback group is pretty well set too. Alexander and King make one of the better cornerback duos in the NFC. King's contract will be up at the end of the season, so the Packers will need to decide what to do with him, but assuming Josh Jackson can finally take that step and start contributing, I think he could still be the guy to take King's place if he leaves.
Chandon Sullivan has been getting some positive reviews in camp too. He has been playing the spot that Tramon Williams had been playing for the Packers, the nickel slot position. Although we all love Tramon, hopefully Sullivan will play well enough that the Packers won't need to bring Williams back.
There's always an undrafted rookie that seems to play well enough to jump on the roster. I think Samuels is a very talented player who's 40-yard dash time at the combine really hurt his draft stock. He's been playing well in camp, covering players like Davante Adams and having some success.
Safeties (4)
Adrian Amos, Darnell Savage, Raven Greene, Vernon Scott
With the Packers keeping six cornerbacks, there was really only room for four safeties. Amos and Savage are safe. That leaves two spots for Greene, Will Redmond, and rookie Scott.
Greene has a nice little role carved out for him. He plays well in the nickel linebacker role that coach Mike Pettine likes to use. He was injured in Week 2 last year and never really made it back. Scott is a seventh-round pick, but he has been making some plays in camp. Ultimately, I think the last spot comes down to him and Redmond. I think Scott is more versatile than Redmond and that will be the difference.
Specialists (3)
Mason Crosby, JK Scott, Hunter Bradley
This group is also pretty much set. Crosby just signed a contract extension this offseason and JK Scott will continue to be the starting punter.