Packers vs. Bucs Week 6: Start time, live stream, TV info and more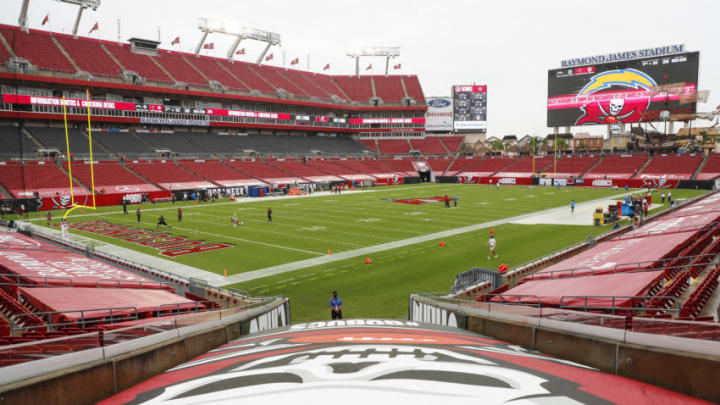 Raymond James Stadium (Photo by James Gilbert/Getty Images) /
How to watch the Packers in Week 6.
After their bye week, the Green Bay Packers are on the road against the Tampa Bay Buccaneers.
It's an important game for the NFC standings with the all-important head-to-head tiebreaker on the line. It could make a huge difference when the playoffs begin.
Planning on watching or listening to the game? Here's all of the information you need:
Date: Sunday, Oct. 18
Kickoff time: 3:25 p.m. CT
Location: Tampa, FL
Stadium: Raymond James Stadium
TV channel: FOX
Radio: WTMJ Milwaukee/WIXX Green Bay
Live stream: NFL.com Live Stream, fuboTV
Predictions: Lombardi Ave staff picks
For the Packers, a win would be their fifth of the season in as many games, setting the foundations for another playoff berth. They would be set up perfectly with no losses, two wins inside the division, as well as head-to-head victories over both the Buccaneers and New Orleans Saints. That's why this game matters for the Packers.
The Bucs lost their last game, on the road against the Chicago Bears, so will be looking to bounce back on Sunday. They are currently tied for the NFC South lead with both the Saints and Carolina Panthers, so every win is important, especially against another contender within the conference.
This will be a rare matchup between Aaron Rodgers and Tom Brady, who surprisingly have only had two head-to-head contests in the past. Rodgers led the Packers to victory over Brady's New England Patriots at Lambeau Field in 2014, with Brady getting the victory in 2018.
With Brady now in the NFC, there is the potential for more showdowns between these two great quarterbacks in the coming year or so, but it's no guarantee. It's possible this will be the final game between Rodgers and Brady.
It should be an exciting one. What's your prediction for the game?