Packers: 'Zero percent' chance Aaron Rodgers retires, says A.J. Hawk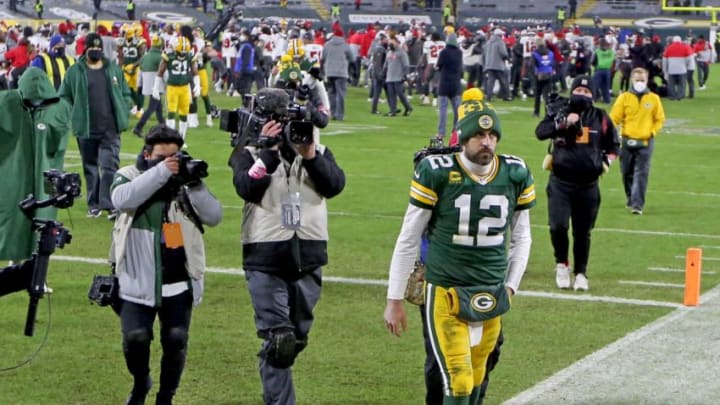 Green Bay Packers, Aaron Rodgers - Photo by Mike De Sisti / Milwaukee Journal Sentinel via USA TODAY NETWORK ORG XMIT: DBY1Nickelcol01 P2 /
What happens next in the Aaron Rodgers situation is anybody's guess. Will Rodgers return to the Green Bay Packers, get traded, or even retire?
Well, it looks like we can forget about the latter. Rodgers' former teammate A.J. Hawk believes there's no chance the three-time MVP will retire this offseason.
Hawk, a friend of Rodgers' who he spent time with this past weekend at the Kentucky Derby, gave his thoughts on the situation on Monday's episode of "The Pat McAfee Show".
"OK, so that's one thing I absolutely can say. My opinion would be, there is a zero percent chance Aaron retires," Hawk said.
Hawk was sure to note that he's not speaking for Rodgers, which is important, but he has spent time with him over this past weekend. So if Hawk says Rodgers isn't retiring, we can probably take that to the bank.
The former Packers' first-round pick also shut down the rumors of Rodgers wanting general manager Brian Gutekunst fired.
"That's garbage too," Hawk said. "I definitely do not think that Aaron is out there trying to say 'fire Gutey'."
Again, that's pretty significant. If Rodgers has zero plans to retire and isn't only going to return if Gutey is no longer GM, it leaves only a few potential outcomes. Either Rodgers returns to play football in Green Bay, he's traded away, or he holds out for a new contract. But if he isn't planning on retiring, we can scrap that from the list of possibilities.
Every day, there seems to be a new key talking point in the Rodgers situation. So things can change pretty quickly.
At some point, though, a decision needs to be made by both Rodgers and the Packers. Does Rodgers plan on playing, and if so, is there any chance it's in Green Bay?
If it's no to that question, the Packers have two options. Do they let him sit at home or do they trade him?