3 players Packers must shut down vs. Bears in Week 6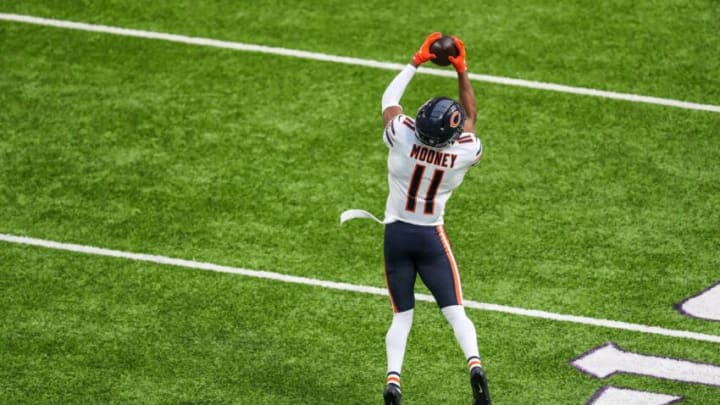 Mandatory Credit: Brace Hemmelgarn-USA TODAY Sports /
It's Bears week.
The Green Bay Packers are on the road for the second straight week, this time making a trip to Solider Field in Chicago to play everybody's least favorite division rival, the Bears. In each of the last two seasons, the Packers have swept the Bears – beating them in both games in the regular season. The last victory the Bears scored over the Packers came back on December 16, 2018.
The Bears are headed into this matchup with a 3-2 record and having experienced a ton of turmoil so far. With a snap of a finger (and an Andy Dalton injury), rookie Justin Fields is now the starting quarterback for the team. He's been average at best so far, but I expect him to get better and better with every game.
In order for the Packers to score a tough division win, there are some players that the team needs to focus on shutting down. Here are three Bears players that the Packers need to shut down in Week 6 to ensure a victory.
1. LB Khalil Mack
Although Khalil Mack isn't the unstoppable force he once was, he's still a massive threat and could easily mess up the Packers' offensive rhythm with one play.
Mack has 5.0 sacks already this year, which is tied for fourth in the league. Mack and fellow Bears LB Robert Quinn have totaled 9.5 sacks together, which is second in the league to the Minnesota duo of Danielle Hunter and Everson Griffen.
Mack is going to be one of the hardest tests for the offensive line yet, but if Elgton Jenkins is able to suit up and play – I expect the team to do well.
It's important to note that Mack might not play in the game Sunday at all, given he hasn't practiced all week.
2. WR Darnell Mooney
With RB David Montgomery being placed on injured reserve this past week, I expect the Bears to try to get more of a passing game going early on. Darnell Mooney has arguably emerged as the WR1 for the Bears given that Allen Robinson has been disappointing throughout the 2021 campaign.
Mooney's raw speed is his best ability and what scares me the most, especially given that the Packers have nobody aside from maybe Eric Stokes that can match up with that level of speed.
Combining Mooney's speed with his great catch rate of 64.5 percent, I think he needs to be a focus of the Packers' defensive gameplan.
3. CB Jaylon Johnson
The Bears can seemingly pull a good cornerback out of thin air nowadays, which is what they've done with 2020 second-round pick Jaylon Johnson. Johnson had a up-and-down rookie season, but has been good to even great at times this year.
Boasting a Pro Football Focus rating of 74.1 and only allowing nine receptions on 23 targets, Johnson is seemingly on his way to becoming the next great corner in Chicago.
Davante Adams could have a field day with the second-year player, but I could see other receivers struggling with Johnson's aggressive, physical style of play.
It's also important that Johnson has six passes defended on the season as well.