Packers to play at Tottenham Hotspur Stadium in 2022 season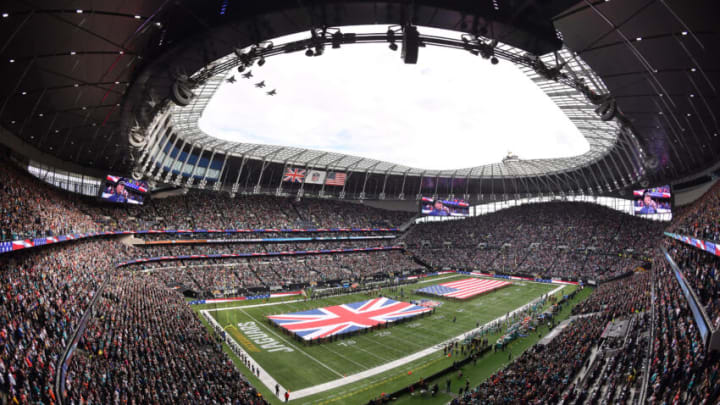 (Photo by Justin Setterfield/Getty Images) /
The wait for a Green Bay Packers international game will come to an end in 2022.
The NFL announced five of the teams that will be playing internationally next season, with three games in the United Kingdom, one in Mexico, and one in Germany.
The Packers were announced as one of those teams, and their game will be played at Tottenham Hotspur Stadium in London.
According to Tom Silverstein of the Milwaukee Journal Sentinel, the Packers will be giving up one of their home games. They are set to play nine home games in 2022, so they will still get eight at Lambeau Field.
Given the Packers' huge popularity in the United Kingdom, there's every chance Tottenham Hotspur Stadium will be filled with green and gold, too.
The other four teams announced to be playing internationally are the Jacksonville Jaguars (London), New Orleans Saints (London), Arizona Cardinals (Mexico City), and Tampa Bay Buccaneers (Munich).
Who will the Packers play in London?
So, the million-dollar question? Who will the Packers be 'hosting' at Tottenham Hotspur Stadium?
We'll have to wait to find out. According to the NFL, the opponents "will be confirmed as part of the full 2022 schedule announcement later this year".
But we can look at the possibilities.
This year, the Packers will host the Chicago Bears, Detroit Lions, Minnesota Vikings, Dallas Cowboys, Los Angeles Rams, New England Patriots, New York Giants, New York Jets, and Tennessee Titans.
It seems unlikely Green Bay would be willing to give up a home game against a divisional rival. It also seems unlikely a huge matchup against the Cowboys or Super Bowl-champion Rams would be picked, but who knows?
A matchup with the Giants or Jets would be my guess, but we'll have to wait a little while before we find out.
What are your thoughts on the Packers giving up their ninth home game to play in London?