Packers to play Giants at Tottenham Hotspur Stadium in Week 5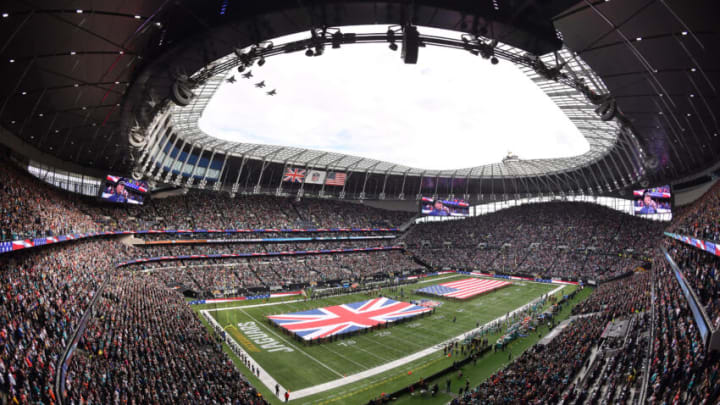 (Photo by Justin Setterfield/Getty Images) /
It's official. The Green Bay Packers are heading to London in Week 5 of the 2022 season.
The NFL announced the 2022 International Series games on Wednesday.
The Packers will "host" the New York Giants at Tottenham Hotspur Stadium in London on October 9. It will be Green Bay's first trip for an overseas game.
This likely means Green Bay's bye week will come in Week 6.
While it means Green Bay will give up one of its home games at Lambeau Field, they are scheduled to host nine this season. They will still have eight games at Lambeau, the same as any other year.
With a capacity of over 62,000, Tottenham Hotspur Stadium will be rocking on game day.
The Packers aren't just well supported across the United States, but globally. The UK and Irish Packers fan group have almost 13,000 followers on Twitter.
It may not be a real home game for Green Bay, but make no mistake about it, there will be many Packers fans filling Tottenham Hotspur Stadium.
So, where is Tottenham Hotspur Stadium?
It is located in North London and is home to English Premier League team Tottenham Hotspur.
Interestingly, the stadium was built with the NFL in mind.
The soccer pitch is retractable. Underneath is an NFL field. The stadium also features two NFL locker rooms.
Having opened just a few years ago, Tottenham Hotspur Stadium is one of the world's best sporting venues and will make a great home away from home for the Packers.
Aaron Rodgers and Co. will likely enter this game as strong favorites against a Giants team that has failed to reach the playoffs since 2016.
Head coach Matt LaFleur will need a good plan for the travel arrangements on what will be an unusual week for the players featuring travel, although that is the same for both teams.