Green Bay Packers: Predicting 2022 regular-season schedule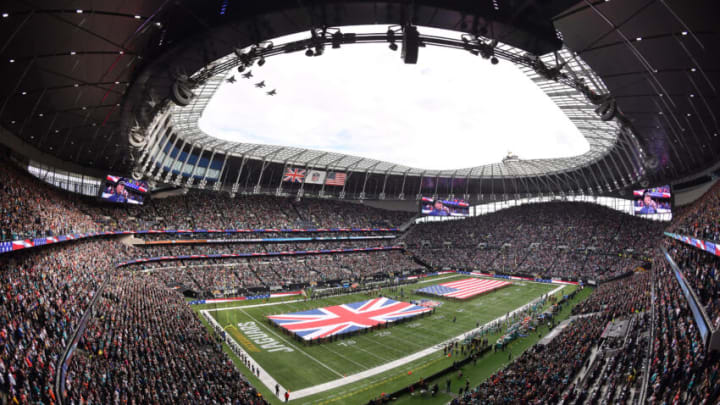 (Photo by Justin Setterfield/Getty Images) /
On Thursday, we will find out the Green Bay Packers' 2022 regular season schedule in full.
Before then, let's have some fun and try to predict how the schedule will play out. We know one game the Packers will play, in Week 5 against the New York Giants in London.
Here are my full predictions for the Packers' 2022 schedule. How many will be correct?
Favorable opening quarter for Packers
Week 1: at Philadelphia Eagles
A tough way to start the season. Green Bay's defense would be put to the test on the road against an Eagles offense now including A.J. Brown. The Packers have started on the road three years in a row, so I'm predicting another road game to start.
Week 2: vs. New York Jets
The Jets may have put together a strong draft class, but the Packers will be expected to win this game at Lambeau Field.
Week 3: at Washington Commanders
Even with Carson Wentz at quarterback, it's unlikely the Commanders will be in contention for the NFC East title this season. The Packers will be favorites on the road.
Week 4: vs. Detroit Lions
It's hard not to be impressed with Detroit's recent offseason work, but this is a team with a lot of work to do. This would be a good game to get before the trip to London.
Packers head to London before bye week
Week 5: vs. New York Giants (Tottenham Hotspur Stadium)
This game is already confirmed. Following the trip to London, we can assume Green Bay will have an early Week 6 bye.
Week 6: BYE
Week 7: at Chicago Bears
Aaron Rodgers owns the Bears and has an incredible record at Soldier Field. With an extra week to prepare, this would be a great way to return from the bye.
Week 8: at Minnesota Vikings
Back-to-back road divisional games would kick off a tough stretch after the bye.
Week 9: vs. Los Angeles Rams
A must-see matchup with the Super Bowl champions visiting Lambeau Field. This one should be in primetime, and Week 9 just feels right.
Tough run continues for Packers
Week 10: at Buffalo Bills
Every year, the Packers get a tough stretch, usually around midseason. I've factored that in. After playing two road divisional games then hosting the Super Bowl champions, I predict the Packers get the Bills. Potentially the toughest game of the season.
Week 11: vs. Tennessee Titans
And I predict it won't get any easier with the AFC's top-seeded team from last season coming to Lambeau in Week 11.
Week 12: at Detroit Lions (Thanksgiving)
It's been seven years since Green Bay's last Thanksgiving game, and nine years since it last played the Lions on Thanksgiving. It's about time that changed.
Week 13: vs. New England Patriots
We saw a classic eight years ago when the Patriots last visited Lambeau Field. This big matchup deserves a slot late in the season.
Three of final five at Lambeau Field
Week 14: vs. Dallas Cowboys
We arrive in the final stretch of the regular season with a huge game. Mike McCarthy's return to Lambeau Field deserves to be saved for December.
Week 15: @ Tampa Bay Buccaneers
A potentially important game for the NFC standings would also be perfect for late in the year.
Week 16: vs. Chicago Bears
The Packers' home game against the Bears is almost always in primetime, so what better way to enjoy this rivalry than over Christmas weekend?
Week 17: at Miami Dolphins
I'm sure the Packers wouldn't complain about visiting Florida twice in December.
Week 18: vs. Minnesota Vikings
The Vikings have been the Packers' biggest divisional rivals in recent years. Let's save this game at Lambeau for last. And who knows, maybe it would be for the division title.