What are Packers' playoff chances entering final three games?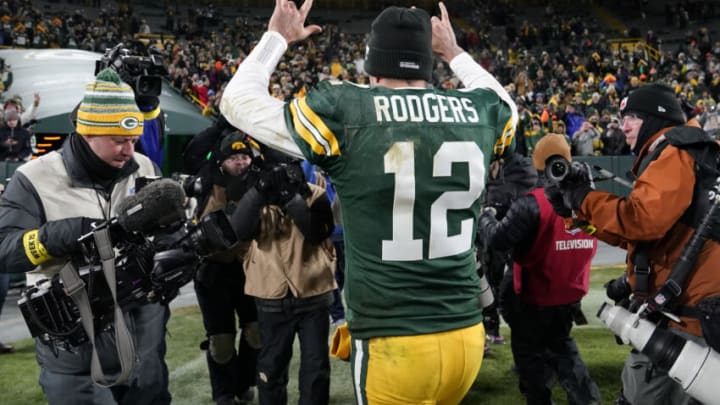 Green Bay Packers, Aaron Rodgers (Photo by Patrick McDermott/Getty Images) /
A few boxes were checked on the Green Bay Packers' postseason to-do list in Week 15.
The Seattle Seahawks lost, the New York Giants-Washington Commanders game didn't end in a tie and, most importantly, the Packers defeated the Los Angeles Rams.
That's the good news.
The bad news is that making the playoffs remains a long shot for the Packers.
According to FiveThirtyEight's updated projections, Green Bay only has an 8% chance of reaching the playoffs entering the final three games.
And it's understandable.
Green Bay must defeat the Miami Dolphins, Minnesota Vikings, and Detroit Lions in consecutive weeks, no easy task, while also getting help elsewhere.
The Seattle Seahawks must lose one, the Washington Commanders lose two, and the Packers win out.
Even then, a playoff berth wouldn't be certain as the Lions could finish ahead of the Packers if their strength of victory improves in the final three weeks. In that scenario, Green Bay would need Detroit to lose two games, including one at Lambeau Field.
All Matt LaFleur's team can do is take it one step at a time. That's what they have done over the past few weeks.
With victories over the Chicago Bears and Rams, they have kept themselves in the playoff race.
But now the games become more challenging.
If Green Bay can win out, it may get the help it needs. There's a good chance the Seahawks lose another game, and it's entirely possible the Commanders lose two of three with matchups against the San Francisco 49ers, Cleveland Browns, and Dallas Cowboys up next.
In that case, it could all come down to how the Packers close out the regular season. Can they get the three wins they need?
It's going to take a huge effort in the final three weeks, but it's not over yet.