No international game for Green Bay Packers in 2023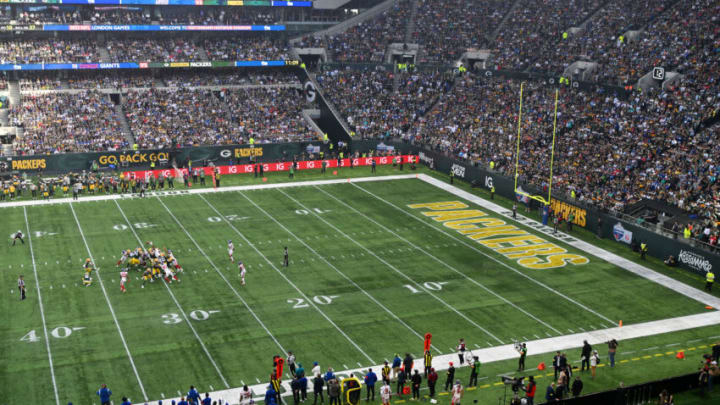 Green Bay Packers (Photo by Mike Hewitt/Getty Images) /
To the surprise of absolutely nobody, the Green Bay Packers will not be among the teams traveling overseas to play in the NFL International Series in 2023.
This season, the Packers became the league's final team to play in London, a 27-22 loss to the New York Giants at Tottenham Hotspur Stadium.
Due to NFC teams playing nine home games in 2022, the Packers gave up one of their scheduled home games, but still had eight at Lambeau Field.
The "home" teams were revealed for the 2023 NFL International Series on Thursday.
The Buffalo Bills and Tennessee Titans will play games at Tottenham Hotspur Stadium, while the Jacksonville Jaguars will continue to play at Wembley Stadium. The Kansas City Chiefs and New England Patriots have been selected to play games in Germany.
As Green Bay isn't set to play any of those teams on the road in 2023, we know for certain the Packers won't be playing internationally for a second season in a row.
It was a long shot, regardless.
Teams are often unwilling to give up a home game against the Packers, as Packers fans travel well. Green Bay had to give up one of its home games to make the trip in 2022, and that could be the case the next time they play in an international game.
But one of Green Bay's NFC North rivals could have to make the trip to Germany.
The Chicago Bears and Detroit Lions are set to play on the road against the Chiefs next season. That creates the possibility of either team being selected to meet Kansas City in Germany.
One thing is for sure: Green Bay won't be making the trip to Europe again in 2023. I'm sure Matt LaFleur will be delighted, and there's also no tricky decision to make on when to take the bye week.