2023 mock draft has Packers going in a surprising direction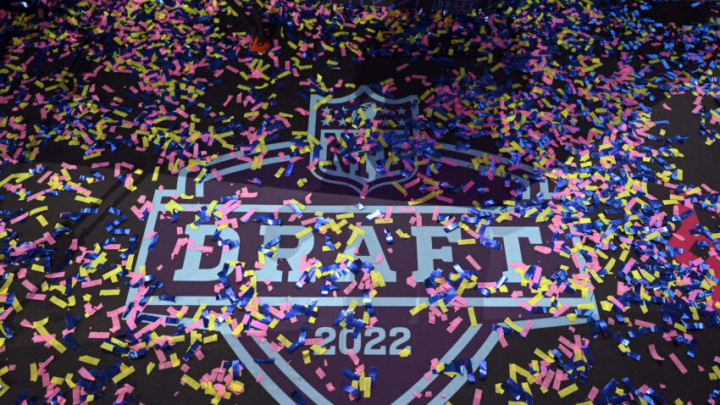 (Photo by David Becker/Getty Images) /
A year ago, we all said there was no way in a million years the Green Bay Packers would draft an inside linebacker in the first round. Especially after paying De'Vondre Campbell.
Wrong. They picked Quay Walker 22nd overall.
We all said they wouldn't select an "older" first-round player.
Wrong again. The Packers selected 24-year-old Devonte Wyatt.
So, could the Packers draft a running back in the first round this year? Many of us will probably say, "never in a million years", but we don't know.
Josh Edwards of CBS Sports believes it's possible. In his latest mock draft, he has Green Bay selecting running back Bijan Robinson with the 15th overall pick.
Before you throw your phone at the wall, hear him out. A good case can be made for the Packers drafting a top running back.
"Although unlikely, the Packers are faced with the chance to entirely remodel the running back room while adding a blue-chip talent," Edwards wrote in the mock draft.
And we're not just talking about any first-round running back, but arguably one of the best to enter the NFL Draft in recent memory. Robinson could quickly become a top-five NFL running back.
The Packers could lose Aaron Jones this offseason. With his cap hit rising to $20.01 million — according to Over The Cap — Green Bay may need to move on. Jones will enter his age-29 season in 2023.
In Robinson, Green Bay would be getting a running back coming off consecutive 1,000-yard seasons for Texas with a combined 29 rushing touchdowns since the start of 2021.
In 2022, he was named a first-team All-Big 12, a unanimous All-American, and won the Doak Walker Award, which goes to the best running back in college football.
NFL Network's Daniel Jeremiah wrote that "Robinson is one of the elite players in this draft class" and should be a top-10 pick, but he may fall due to the position he plays.
The Packers may need a new running back. At 15th overall, they could have the opportunity to draft the best in the class.
But would they actually do it?