Packers: Aaron Rodgers trade a 'real possibility' in 2023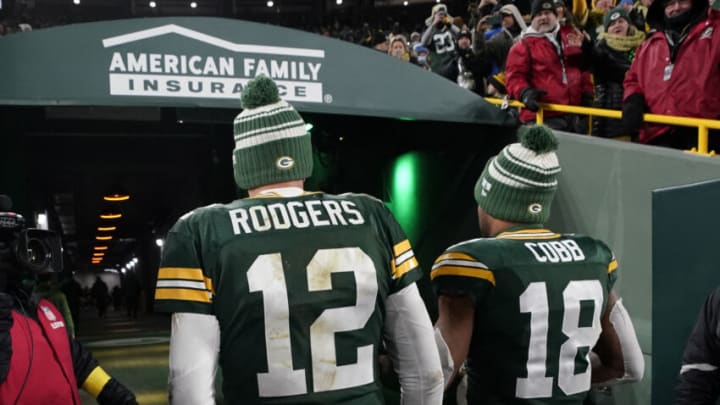 Green Bay Packers, Aaron Rodgers, Randall Cobb (Photo by Patrick McDermott/Getty Images) /
Aaron Rodgers' future is up in the air this offseason, a familiar story for the Green Bay Packers.
A year ago, Rodgers decided to return to Green Bay, signing a contract extension that seemingly showed a commitment by everyone involved that he would complete his career with the Packers.
Well, maybe not.
According to ESPN's Adam Schefter, "both sides are fully aware that a trade is a very real scenario this offseason for Aaron Rodgers."
Rodgers hasn't committed to playing in 2023, but if he decides not to retire, it would make for an interesting scenario.
The four-time MVP will want to compete for a Super Bowl, but would a return to the Packers give him a good opportunity to achieve this?
RELATED: Three reasons why Packers should trade Aaron Rodgers to Jets
Green Bay will struggle to bring back some key players as salary cap issues remain a problem. And Schefter added that the expectation is the team will lose some of those players in the offseason.
"The Packers are expected to move on from certain players, which Aaron Rodgers probably will not like," said Schefter.
So, who could that mean?
Green Bay's free agents this spring include wide receivers Randall Cobb and Allen Lazard, tight ends Marcedes Lewis and Robert Tonyan, kicker Mason Crosby, and safety Adrian Amos.
It seems highly unlikely the Packers will be able to afford to re-sign all of them and, in some cases, they may not even want to.
Schefter would again add that trading Rodgers is a "real possibility".
Where could he end up?
Potential landing spots could include the New York Jets, Tennessee Titans, and Miami Dolphins. All three teams have competitive rosters but could be in the market for quarterbacks in 2023.
Finding a trade partner wouldn't be the problem. But Rodgers and the Packers agreeing to a deal might be the challenging part.
We'll see.