Packers: Could this be the end of the Aaron Rodgers era in Green Bay?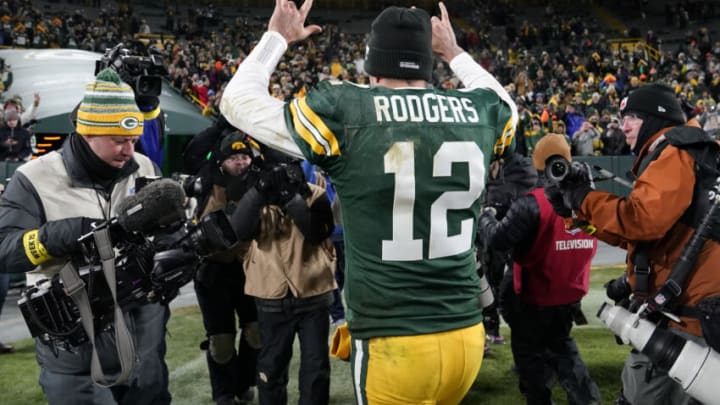 Green Bay Packers, Aaron Rodgers (Photo by Patrick McDermott/Getty Images) /
With trade rumors looming over the offseason, we begin the carousel of headlines that involve Green Bay Packers quarterback Aaron Rodgers.
The main narrative being passed around on social media is Aaron Rodgers being traded to the New York Jets.
This only ramped up even more with the Jets hiring former Packers offensive coordinator Nathaniel Hackett.
This same idea was passed around last season, when Nathaniel Hackett signed with the Denver Broncos, but that eventually died out after reports came out that the Broncos were shut down by the Packers when they offered a trade.
Denver eventually traded for Russell Wilson and that turned out to be a bad decision, which led to Hackett's firing before the end of the season.
Aaron Rodgers' contract allows for him to be traded wherever the team pleases, but there is doubt that they would trade Rodgers without his input, especially to an NFC team.
Speaking on the 'Pat McAfee Show' last week, Rodgers stated:
""If they [Packers] wanna go younger and think Jordan's [Love] ready to go, then that might be the way they wanna go. And if that's the case and I still wanna play, then there's only one option, right? And that's to play somewhere else.""
While Rodgers has flirted with a trade in the past, he does seem to be connected to Green Bay more than Brett Favre was in his final season with the Packers.
Rodgers has spoke extensively about the Jordan Love situation and how he felt. Recently, with fans calling for him to replaced by the younger and inexperienced Love, Rodgers hasn't been offended.
Clearly, Rodgers believes there is a possibility for the Packers to replace him with Jordan Love considering they used a first-round selection on him. But the decision is going to come down to Rodgers and his verdict on if he will keep playing football or not.
From there, he would decide if the team put together following re-signing and free agency would allow him another run at the Super Bowl or the MVP.
Another issue, is that the Packers are currently $16 million over the cap, which brings up the question about how detrimental the Rodgers contract could be in bringing in more talent.
Rodgers is due $59 million in guaranteed money in 2023 if he continues to play, and has a $31 million cap hit next season. The contract makes it difficult for Rodgers to be traded considering the dead cap hit for the Packers and the cap hit that the team trading for him would have to eat.
In order to bring in talent and keep the players Rodgers wants to keep, it could require him re-working or re-structuring his contract. Rodgers is not opposed to this idea, stating on the 'Pat McAfee Show' that the contract may need to be reworked.
It seems that the Packers' faithful are in for another whirlwind of an offseason involving Rodgers and the possibility of being traded, but if it is anything like last season, he will stay and play his final NFL games with the team that drafted him.
At least this year's offseason seems to be more quiet than last year's.