Packers 2023 Draft: Updated draft order after divisional round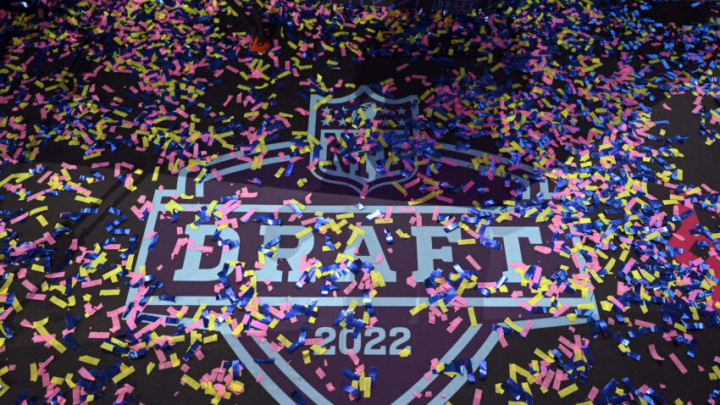 (Photo by David Becker/Getty Images) /
Below is the updated 2023 NFL Draft order following the divisional round of the playoffs. The Green Bay Packers will pick 15th in the first round.
The Green Bay Packers know where they will be picking in the 2023 NFL Draft, but the order has been updated following last week's divisional-round games.
Only four teams now don't know their pick for the upcoming draft. The Kansas City Chiefs, Philadelphia Eagles, Cincinnati Bengals, and San Francisco 49ers are the four remaining teams in the NFL playoffs.
The Packers own the 15th pick in the first round, but they have been willing to make trades in recent years.
How the first-round order stands could have an impact on potential trades they could look to make on draft day.
Following the divisional round, here is the updated first-round draft order:
2023 NFL Draft order after divisional round: Packers at No. 15
Chicago Bears
Houston Texans
Arizona Cardinals
Indianapolis Colts
Seattle Seahawks (from Denver Broncos)
Detroit Lions (from Los Angeles Rams)
Las Vegas Raiders
Atlanta Falcons
Carolina Panthers
Philadelphia Eagles (from New Orleans Saints)
Tennessee Titans
Houston Texans (from Cleveland Browns)
New York Jets
New England Patriots
Green Bay Packers
Washington Commanders
Pittsburgh Steelers
Detroit Lions
Tampa Bay Buccaneers
Seattle Seahawks
Los Angeles Chargers
Baltimore Ravens
Minnesota Vikings
Jacksonville Jaguars
New York Giants
Dallas Cowboys
Buffalo Bills
To be determined after conference championships
To be determined after conference championships
To be determined after Super Bowl
To be determined after Super Bowl
Note: The Miami Dolphins forfeited their first-round pick, which is why only 31 selections will be made in the first round.
Following this week's conference championships, we'll know which teams hold the No. 28 and No. 29 picks in the draft.
On Sunday, the Chiefs host the Bengals and the Eagles take on the 49ers.
The final two spots will be determined in February's Super Bowl.