Packers 2023 Draft: Updated draft order entering Super Bowl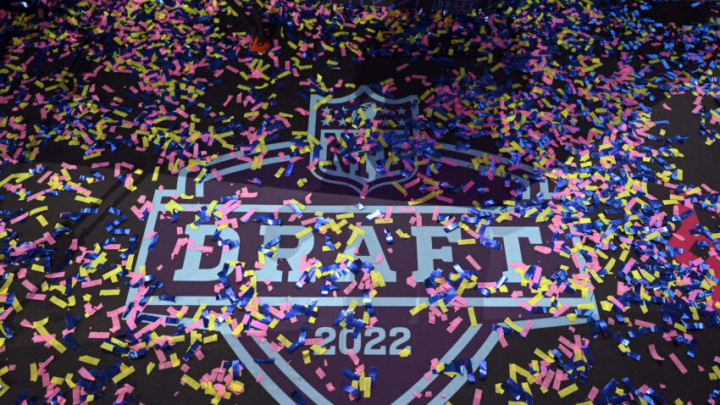 (Photo by David Becker/Getty Images) /
The 2023 NFL Draft order is almost completely set. Only the Philadelphia Eagles and Kansas City Chiefs are yet to determine which team will pick 31st and 32nd.
For the Green Bay Packers, they have known their first-round position for a few weeks now. They own the 15th pick in the first round.
The million-dollar question for Green Bay moving forward is whether Aaron Rodgers stays, retires, or is traded. If he is traded, will the Packers add another 2023 first-round pick?
Which of the teams in the first round below could the Packers make a deal with for Rodgers?
2023 NFL Draft order entering Super Bowl
Chicago Bears
Houston Texans
Arizona Cardinals
Indianapolis Colts
Seattle Seahawks
Detroit Lions (from Los Angeles Rams)
Las Vegas Raiders
Atlanta Falcons
Carolina Panthers
Philadelphia Eagles (from New Orleans Saints)
Tennessee Titans
Houston Texans (from Cleveland Browns)
New York Jets
New England Patriots
Green Bay Packers
Washington Commanders
Pittsburgh Steelers
Detroit Lions
Tampa Bay Buccaneers
Seattle Seahawks
Los Angeles Chargers
Baltimore Ravens
Minnesota Vikings
Jacksonville Jaguars
New York Giants
Dallas Cowboys
Buffalo Bills
Cincinnati Bengals
New Orleans Saints (from San Francisco 49ers via Miami Dolphins and Denver Broncos)
Philadelphia Eagles or Kansas City Chiefs
Philadelphia Eagles or Kansas City Chiefs
Realistically, the teams to watch in an Aaron Rodgers trade are the New York Jets, Las Vegas Raiders, and Indianapolis Colts. It's tough to make much of a case for any other team. Perhaps the Miami Dolphins.
New York picks 13th overall in the first round, Las Vegas seventh, and Indianapolis fourth. If any of those teams were willing to include a 2023 first-rounder, the Packers would end up with a favorable selection to go with the 15th pick.
Either way, Green Bay has a top-15 pick, which hasn't been the case all too often in the Aaron Rodgers era.