ESPN reporter says Aaron Rodgers trade 'feels more possible than ever'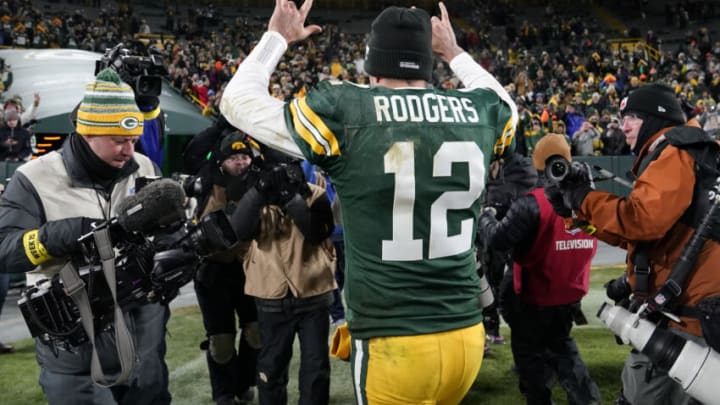 Green Bay Packers, Aaron Rodgers (Photo by Patrick McDermott/Getty Images) /
Until Aaron Rodgers makes a decision on his future, the talk of a potential trade won't go away.
The idea of a trade has been there the past two seasons, but it seems a bit different this offseason. Maybe Rodgers will play for the Green Bay Packers in 2023, but that is anything but a guarantee.
In a recent article discussing NFL rumors, ESPN's Jeremy Fowler wrote that an Aaron Rodgers trade "feels more possible than ever."
And considering many of the top NFL reporters have mentioned something similar in recent weeks, Fowler isn't alone in that belief.
Fowler added that the team is "comfortable" with Jordan Love's development. Love has backed up Rodgers for three seasons, but at some point, the Packers need to move forward with him.
""What's becoming clear is a trade feels more possible than ever. Backup QB Jordan Love is ready to play after three seasons in the shadows, and the Packers are comfortable with his development." – Jeremy Fowler of ESPN"
The Packers could enter a now-or-never scenario with Love as a potential QB1. Maybe that's why a Rodgers trade becomes more possible than previously.
Fowler mentioned two teams as potential destinations for Aaron Rodgers: the New York Jets and Las Vegas Raiders.
And that makes sense. If the Packers want to trade Rodgers to an AFC team, New York and Las Vegas are the only two that make much sense.
With the Jets, Rodgers would get to play on a team with a top-five defense from 2022, along with a rising star at wide receiver in Garrett Wilson.
The appeal to joining the Raiders is obvious: Davante Adams.
The Aaron Rodgers-to-Davante Adams connection was unstoppable for many years in Green Bay. They could reunite in Las Vegas, and Rodgers would also have Darren Waller and Hunter Renfrow to throw to. And maybe Rodgers arriving would help convince 2022 NFL rushing champion Josh Jacobs to re-sign.
So, we wait. Rodgers still hasn't decided if he wants to play.
But in the meantime, talk of a potential trade continues to heat up.