Bears fans embarrass themselves with weird Packers chant after TNF
They can't stop thinking about the Packers.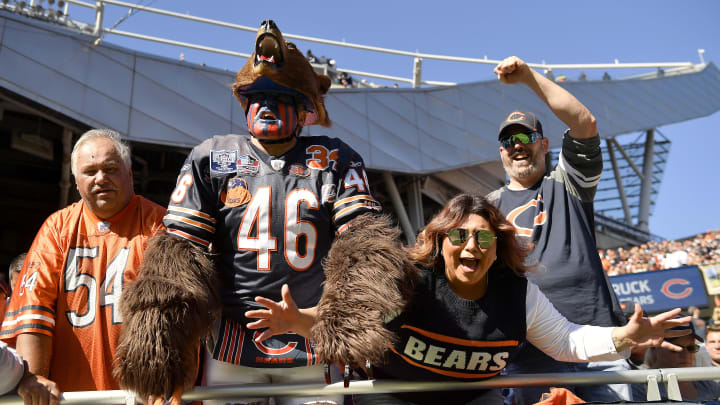 Green Bay Packers / Quinn Harris/GettyImages
Chicago Bears fans just can't stop thinking about the Green Bay Packers.
The Bears earned only their third victory in their past 20 games by beating the Carolina Panthers on Thursday Night Football. It's a rare opportunity to celebrate a win. A glimmer of hope that the team is moving in the right direction. Right?
Apparently not. It seems all Bears fans could think about was the Packers after barely beating the worst team in football.
Bears fans are obsessed with the Packers, even after winning on TNF
After the game, several Bears fans remained in the stadium to celebrate the victory. The Thursday Night Football broadcast picked up two chants from Bears fans.
The first was "Green Bay sucks," shortly followed by "F--- the Packers."
Even in a moment when they should be happy with their victory, they can't stop thinking about the Packers. Except it seems they have forgotten what happened in the season opener.
The fact Green Bay has struggled this season makes it even funnier. The Packers required a miracle 18-point fourth-quarter comeback to defeat the New Orleans Saints. They beat a Los Angeles Rams team with Brett Rypien at quarterback.
Green Bay's only convincing victory this season? In Week 1 against the Chicago Bears. The Packers went into their building and piled up the points, winning 38-20. They haven't outperformed any other team like they did the Bears.
Bears fans seem to forget that, even after their victory over the Panthers, they are still in last place in the NFC North with a 3-7 record.
I get it. They have waited years to finally see the Packers struggle without Aaron Rodgers. But maybe they should wait a little longer before mocking a team they haven't beaten since Mike McCarthy was the head coach.
More Packers news and analysis