Jclombardi's highlights Packers headlines.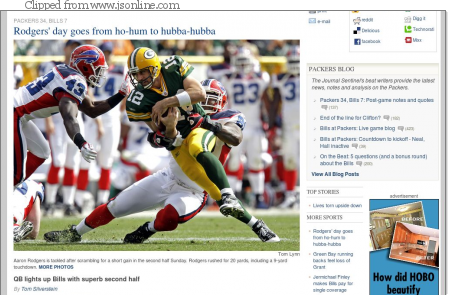 Rogers' day goes from ho-hum to hubba-hubba: The Aaron Rodgers who was uncharacteristically off target in the season opener and pretty mediocre in the first half Sunday against the Buffalo Bills is not the quarterback who will lead the Green Bay Packers to the Super Bowl. The only guy who has a chance to do that is the Aaron Rodgers who lit up the Bills in the second half of a 34-7 victory at Lambeau Field. It was enough to win the home opener and the second half should stand as some kind of impetus for next week when the Packers travel to Chicago to meet the Bears on Monday night. "We're 2-0, they're 2-0, it's going to be a big game," Rodgers said.
Finley makes Bills pay for single coverage with big day: Packers tight end actually saw the light of day against the Buffalo Bills, who were not as intent on double- and triple-teaming him Sunday in the Packers' 34-7 victory. The result was the return of the big play for the tight end position. Finley grabbed four catches for 103 yards, and while he didn't score a touchdown, all four of his receptions – 34, 32, 22 and 15 yards – came on scoring drives. "He caught the same amount of passes (last week), it was just finding ways to get him the ball in space, down the field," quarterback Aaron Rodgers said.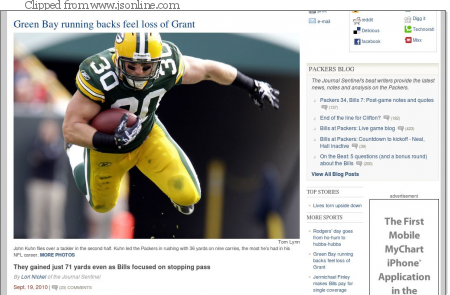 Green Bay running backs feel loss of Grant–gain only 71 yards: The whole point of this game, said Kuhn, was to build some confidence for the backs – "to know without Ryan we can still be productive," he said. "There's definitely room for improvement out there." "As a group, we could do a little bit better job," said tackle Mark Tauscher. A combination of things went wrong. Jackson confessed that he didn't always hit the hole with the right timing. Jackson admitted that there weren't always major holes at the line, either. "Well, some were there, some weren't," he said. "It was clogged up most of the time, but you've just got to watch the film and learn from it."