Green Bay Packers: Predicting 2016 regular season record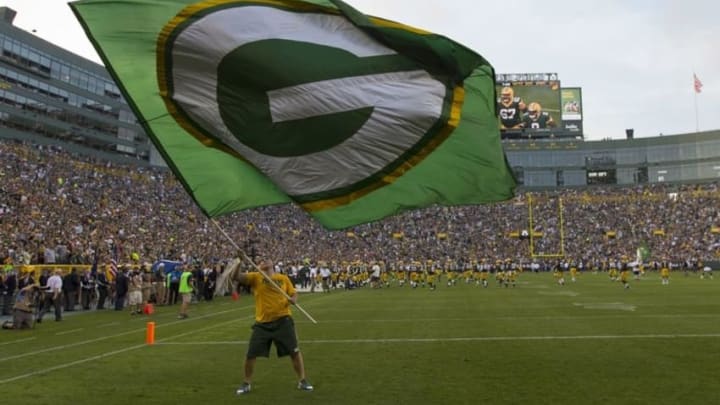 Aug 18, 2016; Green Bay, WI, USA; The Green Bay Packers take the field prior to the game against the Oakland Raiders at Lambeau Field. Mandatory Credit: Jeff Hanisch-USA TODAY Sports /
Dec 13, 2015; Green Bay, WI, USA; Green Bay Packers running back Eddie Lacy (27) runs past Dallas Cowboys safety J.J. Wilcox (27) for a first down in the fourth quarter at Lambeau Field. Mandatory Credit: Benny Sieu-USA TODAY Sports /
Week 6
Dallas Cowboys @ Green Bay Packers
Even with the likelihood that Tony Romo will not be in this game, the Cowboys will still likely be a tough out, at least on the offensive side of the ball.
This team has had the best offensive line in the league for multiple years, as well as a seemingly innate ability to keep adding useful pieces.
Tyron Smith, Travis Frederick, Zack Martin, and La'el Collins have all been added in recent years, and each are either among the top 3 at their positions or could be on their way there; they have been the stars of the Dallas show, even if they get overshadowed in the spotlight when guys like Romo, Dez Bryant, or Demarco Murray have put up huge numbers.
The Cowboys have yet another guy set to profit off them in Ezekiel Elliott, and he could become the mainstay Murray looked to be in the 2014 season.
There are already questions as to whether you'd rather have him or Todd Gurley for the near future — and with the rookie season Gurley had, that's definitely high praise for someone who hasn't played an official down yet.
This hasn't brought into the equation the biggest question around this team, however: how will Dak Prescott perform? The rookie looked good in the preseason, but we've seen far too many players do that and flop to think it means too much.
That team is set up pretty well to help a young QB (potentially elite RB, top-caliber WR, league-best OL), but this is also a team that fell apart without their usual QB in 2015 (1-11 w/o Romo) and is banking on better injury luck to not lose any of those other pieces again.
I haven't mentioned the defense yet, but honestly there isn't much to say.
They do have a couple talented players in the secondary (Byron Jones — 82.1 coverage grade, per PFF — looks like a potential elite player, while Morris Claiborne has been talked up as someone finally ready to step up to the potential that got him drafted #6 overall a few years ago), but their front seven is an absolute mess; suspensions have dropped their top two pass rushing options (Demarcus Lawrence & Randy Gregory) and an inside linebacker (Rolando McClain) for large chunks of the year, and they have to hope Sean Lee can manage to stay healthy for once or they will have nothing beyond new addition DL Cedric Thornton in that entire group.
The Cowboys offense will try to grind things out, run down the clock and keep things close, and they could well succeed in that gameplan; a powerful run game is the best way to attack Green Bay's defense even if they have improved in that facet, and no team may combine their latent abilities with forced necessity to succeed in that area as Dallas.
That defense should be putrid at best though, and the Packers should be fine whether they go with the pass or run here.
Green Bay 34
Dallas 16
Green Bay Record: 4-1
Next: Packers vs. Bears