Green Bay Packers: Putting the brakes on Jordan Howard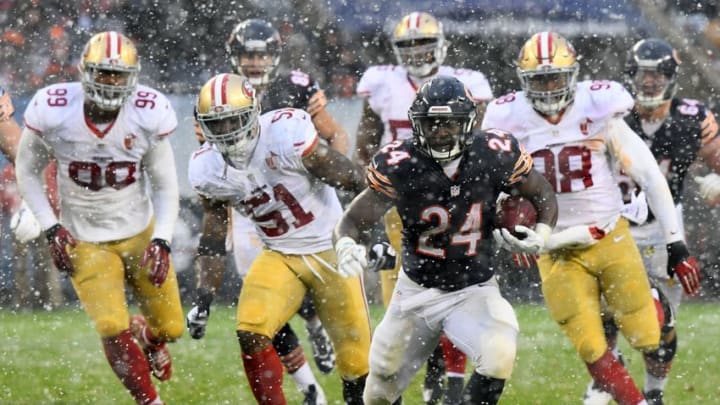 Dec 4, 2016; Chicago, IL, USA; Chicago Bears running back Jordan Howard (24) rushes the ball past San Francisco 49ers inside linebacker Gerald Hodges (51) and defensive end Ronald Blair (98) during the second half at Soldier Field. Mandatory Credit: Mike DiNovo-USA TODAY Sports /
While the return of Alshon Jeffery gives the Green Bay Packers a major outside weapon to game plan for in their upcoming road battle with the arch nemesis Chicago Bears, it will be the legs of a prized rookie running back that will give John Fox and company their best opportunity to play spoiler in their bid to keep their opponents in front of their TV sets and off the gridiron come playoff time.
Jordan Howard has been nothing short of a revelation in his short time in the Windy City, as the fifth-round pick has quickly taken over the reins of the Bears' running attack and is only 31 yards away from breaking the 1,000-yard barrier.
The 6-foot, 230-pound hoss is a well-built no-nonsense ball carrier with the vision to quickly identify running lanes and dole out punishment to oncoming defenders by lowering his shoulder for extra yards.
He has been the only constant in a Bears' offense that has seen three different quarterbacks in the starting lineup along with a variety of injuries and even suspensions (see Jeffery above) at wide receiver and tight end along with the offensive line.
MOCK DRAFT: An early look at top three rounds of 2017 NFL Draft
Though Howard may not possess the breakaway speed of other top players at his position, he's the type of runner that will keep pounding the box until it breaks and pop off a big gain.
In his past five games alone, Howard has rushed for nine carries of 12 yards or more, including plays of 22, 25, 27 and 31 yards over that stretch. Earlier in the season, the 22-year-old battering ram exploded for runs of 57 and 69 yards, as he currently ranks seventh overall among running backs in the league with a Pro Football Focus (PFF) rating of 78.2.
Blustery 15-mph winds and a scatter-armed Barkley at quarterback could be a recipe for disaster for the Blue and Orange if they plan to attack Green Bay by tossing the ball all over the field even against a vulnerable secondary.
PLAYOFF PICTURE: Who Packers fans should root for in Week 15
Controlling the pace of the game with Howard getting a heavy workload seems to be Chicago's best formula for success considering the fact that Dom Capers' defense has fallen off markedly in recent weeks in stopping the run.
Though the Packers were second to none in that department during the first quarter of the year, teams have been pounding the unit for robust yards-per-carry totals over a nearly a two-month period.
Atlanta, Tennessee, Philadelphia, Washington, Houston and Seattle have abused Green Bay's front seven to the tune of 4.7, 4.9, 4.5, 5.0, 4.5 and 5.2 yards per carry respectively in six out of the last seven weeks which is a far cry from Weeks 1 through 5 when teams were consistently being held to 2.9 yards per carry or less.
ANALYSIS: Aaron Rodgers' immobility doesn't have to be bad news
With offensive lines consistently double teaming Mike Daniels, none of the other interior linemen have emerged as a run-stopping force. Letroy Guion will show flashes, but there are far too many plays where his tendency to play high will get him knocked off the ball.
Kenny Clark, on the other hand, has done a poor job of getting off blocks lately and has neither a sack nor a forced fumble all season.
In addition, Mike Pennel's latest suspension doesn't bode well for the Packers either if they have designs to shut down Howard and force Barkley to air it out on Sunday.
The reality is that putting the clamps on No. 24 will rest just as much on the shoulders of the Packers' offense that can swiftly put the opposition into a deep freeze if they jump out to a two-score advantage.
If that doesn't end up being the case this week, we could be headed for a grind-it-out, tension-filled slug fest.
The Bears will hope to slow things down to a crawl and win a 13-10 game with Aaron Rodgers and friends looking on while sipping their hot chocolate on the sidelines.
Next: 2017 NFL Draft: An early look at the top three rounds
The season can't end that way, but it very well could because Howard is just that type of back.