Packers: LeRoy Butler deserves to be in the Hall of Fame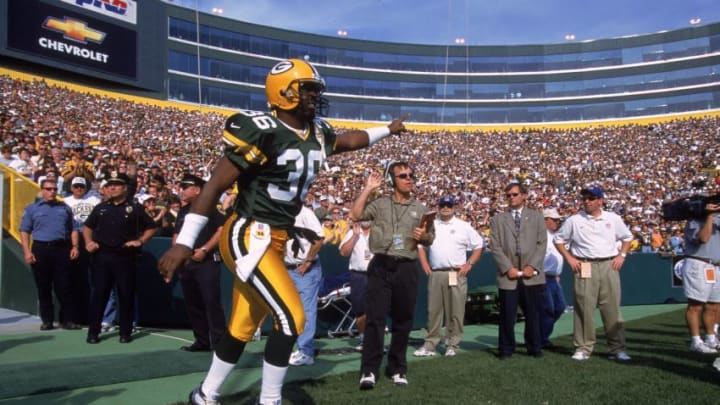 Green Bay Packers, LeRoy Butler - Mandatory Credit: Jonathan Daniel /Allsport /
Green Bay Packers legend LeRoy Butler deserves Hall of Fame recognition.
With the NFL Hall of Fame Game coming up, it got me thinking about potential future Packers Hall of Famers. Jerry Kramer was the most recent Packer inducted this past year, becoming the 25th Packer.
For the longest time, people were lobbying for Kramer to get into the Hall. He was finally elected into the Hall in 2018. Now that Kramer was inducted, I think it's time to move onto the next deserving Packer.
I think LeRoy Butler should be the 26th member. In each of the last two years, Butler was among the 25 semi-finalists for the Hall of Fame but missed the cut both years.
Butler was drafted by the Packers in the second round of the draft out of Florida State. He spent all 12 of his professional years in Green Bay. When he was drafted, the Packers weren't perennial contenders as they have been in the last two decades. They were a joke in the league until they turned it around. LeRoy Butler was a huge part of that. He was the heart of the Packers defense in the turn-around.
While in Green Bay, Butler played in 181 games and had 38 interceptions, 10 fumble recoveries, and 20.5 sacks. He was a four-time Pro Bowler and a four-time All-Pro. He was also named to the NFL 1990s All-Decade Team.
The Packers won the Super Bowl in 1996 and Butler was a huge part of the top defense in the league that year. He had five interceptions and finished second on the team with 6.5 sacks. You could make the argument that the Packers may not have won the Super Bowl in 1996 without Butler.
And let's not forget, Butler is the one who started the famous Lambeau Leap.
On that NFL 1990 All-Decade Team, every member but LeRoy Butler and safety Steve Atwater are in the Hall of Fame. Atwater's name seems to keep coming up more than Butler's, but that might not be a bad thing.
In Pete Dougherty's article for Packers News about Butler's Hall of Fame chances, he touches on the idea that if Atwater can get in sooner, then that leaves a bigger window for Butler to get in sooner than later.
You can look at stats and wonder why Atwater would get in before Butler. Atwater finished his 11-year career with 24 interceptions and just five sacks. He was also only an All-Pro twice but was a Pro-Bowler eight times and won two Super Bowls with Denver. It is pretty close, but if you looked at stats alone, Butler would and should get in before Atwater.
There is more to it than stats though. These two safeties played differently, had different playing styles. Butler was disruptive in the passing game and also as a blitzer. Atwater had more of a reputation as an enforcer and a hard hitter. All of that gets taken into account in the voting process.
Now on top of that, Troy Polamalu will also be eligible next year, and it feels like he is a first-ballot Hall of Famer because he was such a big part of a team that went to three Super Bowls and won two of them. Charles Woodson will be eligible in 2021, which could make Butler's chances a little slimmer in the near future.
I think once Atwater, Polamalu, and Woodson get in, Butler should have a good chance to be enshrined. I think he should have been in sooner, but now there is a slew of great safeties becoming eligible, so Butler may have to wait just a bit longer.
Hopefully in the next few years, LeRoy Butler will finally get his chance to join Canton.
All stats are courtesy of Sports Reference.