Packers: LeRoy Butler named a semifinalist for Class of 2020 HOF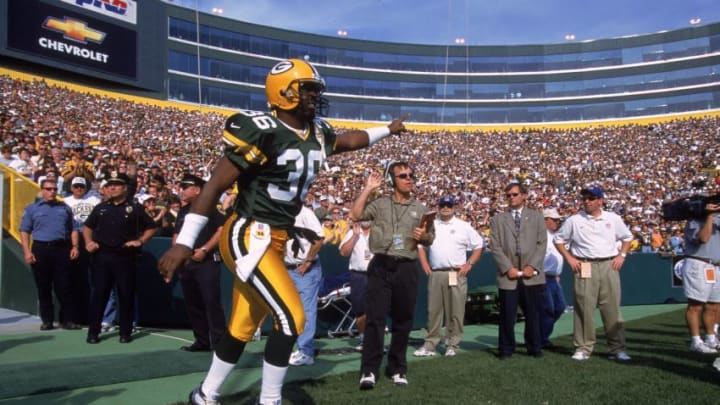 Green Bay Packers, LeRoy Butler - Mandatory Credit: Jonathan Daniel /Allsport /
Former Green Bay Packers safety LeRoy Butler has been named a semifinalist for the Hall of Fame class of 2020.
The NFL Hall of Fame released its list of semifinalists for the class of 2020. For the third year in a row, LeRoy Butler has made the list. While it is a good sign that he has been getting more attention lately, there are also five other safeties/defensive backs on this list.
More Articles About LeRoy Butler:
It's possible that more than one safety could get into the Hall of Fame at the same time, but more than two could be tough. Here are the other safeties/defensive backs who made the list.
Steve Atwater, who's been a semifinalist nine times (2012-2020). Lombardi Ave had an article about Butler being worthy to get into the Hall of Fame, and Atwater was a big part of when Butler could possibly get in. I think Atwater could be Butler's biggest roadblock to getting in. He is a two-time Super Bowl champion, an eight-time Pro Bowler and a three-time All-Pro.
Ronde Barber is also on his third year making the semifinal list (2018-2020). He had a phenomenal career with the Tampa Bay Buccaneers where he won a Super Bowl in the 2002-2003 season. He was a five-time Pro Bowler and a five-time All-Pro.
John Lynch is on this list for the eighth time (2013-2020). Lynch had a great career in Tampa Bay and Denver. He was a Super Bowl champion alongside Barber. He is a nine-time Pro Bowler and a four-time All-Pro.
Troy Polamalu seems like the most likely of all of these to get in. He seems like a first-ballot Hall of Famer. He was the heart of the Pittsburgh Steelers defense that was one of the tops in the league for years. He is a two-time Super Bowl champion, eight-time Pro Bowler and a six-time All-Pro. It wouldn't surprise me at all if he got in this year, pushing Butler's chances of getting in another year.
Darren Woodson spent his entire career on the Dallas Cowboys team. He was a big part of the team that won three Super Bowls. On top of that, he was a five-time Pro Bowler and a four-time All-Pro.
Butler won a Super Bowl with the Packers in 1996 and came close the next season. He was a four-time Pro Bowler and All-Pro. He is also a part of the NFL 1990's All-Decade Team. One of the biggest things about Butler is that he changed the position of safety in the NFL.
As a safety, he had 20.5 sacks. He was a threat in the run defense, something safeties didn't really do when he played. And possibly one of the most important things he did was start one of the best traditions in the NFL: the Lambeau Leap.
It wouldn't be too big of a shock if Butler didn't get in this year. I think Polamalu and possibly Atwater or Lynch could get in ahead of the former Packers safety. Whether they deserve it or not is debatable. I do feel confident in thinking that he is getting closer and I think will get the call in the next few years coming up and end up in the Hall of Fame where he belongs.