Packers 53-man roster predictions two weeks before season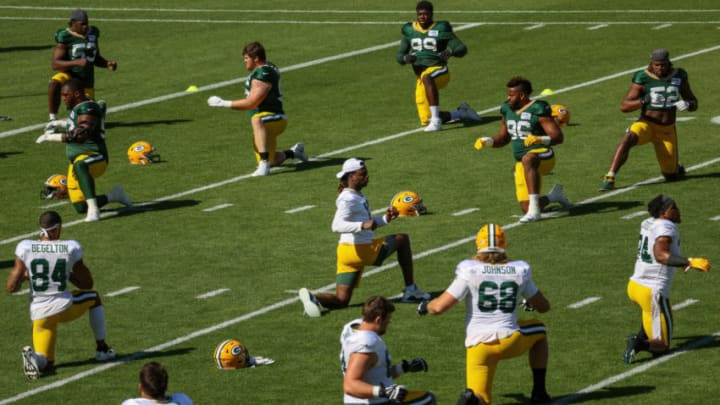 Green Bay Packers (Photo by Dylan Buell/Getty Images) /
Aaron Rodgers, Tim Boyle, Jordan Love (Photo by Stacy Revere/Getty Images) /
Packers 53-man roster predictions two weeks before the start of the regular season.
The Green Bay Packers open their 2020 season in Minnesota on September 13, just under two weeks away. Everything about this year has been very different from the normal start of an NFL season.
The transparency of Packers' training camp practices is no different. No fans are allowed, which means fewer people tweeting and texting about what is going on in camp. On top of that, the media has also been limited in what they are allowed to put out of Twitter and other forms of media.
Some of the things that are essentially being censored are which players are running with which units (first team, second team…etc). Add in the fact that there aren't any preseason games, and it makes it very difficult to really tell who is really going to be making the team.
There are obviously locks like Aaron Rodgers, Davante Adams, Aaron Jones, and the Smith Bros., but there are always some cuts and players that make the team that fans can usually see coming. That's part of the fun of following Packers training camp closely; seeing which undrafted rookie(s) will make the active roster.
Without a whole lot of detail, it will make roster predictions more difficult than usual, but there is still enough information coming out to make some educated guesses and update my previous predictions. Like always, we'll start with the quarterbacks.
Quarterbacks (3)
Aaron Rodgers, Tim Boyle, Jordan Love
I feel this group is pretty much locked in for the Packers. They released Jalen Morton before camp really started, leaving them with Rodgers, Boyle, and Love. At the start of camp, I questioned whether or not the Packers would keep three quarterbacks, but it makes sense to keep three.
With the pandemic going on, keeping only two quarterbacks, one being a rookie, would be a dangerous game to play. Also, Boyle has supposedly looked solid in camp as well, while Love has had his rookie struggles. Should Rodgers get injured this season, throwing Love in there may not be the best idea, especially if they are in playoff contention. Keeping three quarterbacks makes the most sense.