Packers 53-man roster predictions two weeks before season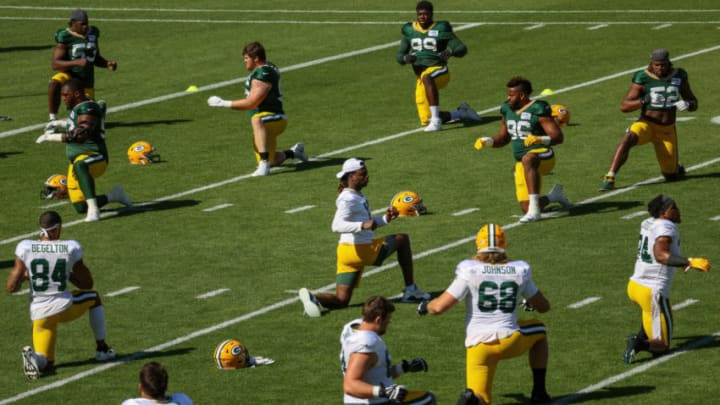 Green Bay Packers (Photo by Dylan Buell/Getty Images) /
Green Bay Packers, Jake Hanson, Jon Runyan (Photo by Stacy Revere/Getty Images) /
Tight ends (4)
Jace Sternberger, Marcedes Lewis, Robert Tonyan, Josiah Deguara
Like the quarterback group, I think the Packers have their tight ends set. They released converted defensive lineman James Looney early, leaving five in the group. I think Evan Baylis could sneak onto the practice squad again and be called upon in case of an injury.
I think Sternberger is still the tight end of the future, but he may not be the only tight end getting playing time. Tonyan has been making some plays in training camp and could be pushing Sternberger for more playing time than we thought at the beginning of camp. I would still look at Lewis to be primarily a blocking tight end, but that doesn't mean he won't be getting involved in the passing game either.
Before the Packers tightened up on what the media could tweet about, there was some buzz about rookie Josiah Deguara running with the first-team offense. My guess is he will be a bigger part of this Packers offense than a lot of people think.
I don't think there will be just one tight producing in this offense. I think the Packers are going to get production from multiple players from this tight end unit.
Offensive line (10)
David Bakhtiari, Elgton Jenkins, Corey Linsley, Lane Taylor, Billy Turner, Rick Wagner, Alex Light, Lucas Patrick, Jon Runyan, Jake Hanson
Right now, the Packers have a nice problem of having too many offensive linemen. The camp competition at right tackle between Wagner and Turner has provided the Packers with some options.
While Turner has been getting reps at right tackle, Taylor has looked good at right guard, allowing the Packers to move Turner out to tackle, should he win the job. With Wagner's recent injury, it looks like Turner may be the guy at right tackle as of right now. If you haven't yet, take a listen to Peter Bukowski on Locked on Packers from last week where he talks about this exact situation.
Bukowski explains that if Wagner loses the competition, that's fine. That might even be preferred for the Packers. He signed a cheap deal and I'm sure they would be happy with him as a backup tackle because when he is healthy, he is a good, quality tackle. Now, if Taylor and Wagner were to be the starting right guard and tackle, then they would have an expensive backup sitting the bench. It will be interesting to see what happens when Wagner is back to being healthy and back in the competition.
The left side of the line is pretty much set in stone. Bakhtiari and Jenkins are two of the better players at their positions in the league. Linsley will get the nod at center, but this could be his final season in Green Bay as he's in a contract year.
Veteran backups include Light and Patrick. Light may make the team because he has been serviceable in case of injury in the past. I'm sure Packers fans would love to have Light not touch the field this year, but he is only one snap away from being forced into action.
Patrick has been a reliable backup interior offensive lineman in the past and could be the future center, should Linsley move on after this season. Rookies Runyan and Hanson will also likely make the active roster. Runyan is a versatile lineman, which is something the Packers really like. He will likely be a guard or center, but could probably play tackle in a pinch. Hanson will probably compete with Patrick for the center position in the future.
I think there is a possibility that the Packers could cut Light and sign veteran Jared Veldheer if they aren't comfortable with their situation. Like Bukowski puts it, Veldheer could be a "break in case of emergency" player for the Packers.