Packers: Paying Aaron Jones was the right decision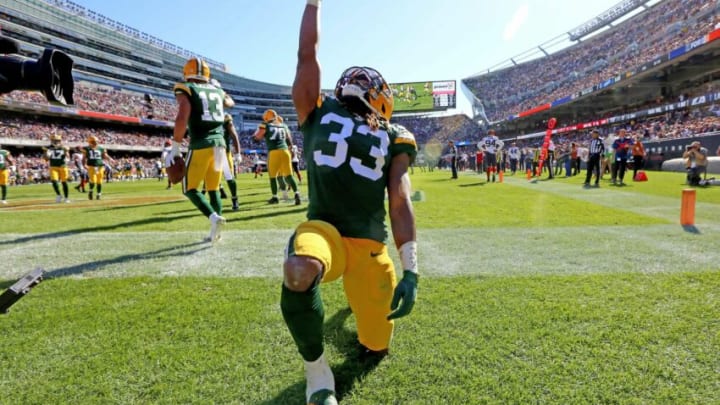 Green Bay Packers, Aaron Jones - Photo by Mike De Sisti / Milwaukee Journal Sentinel via USA TODAY NETWORKCent02 7i0ej3kyh2p17w00cetz Original /
When the Green Bay Packers signed Aaron Jones to a four-year, $48 million extension in the off-season, the "don't pay running backs" crowd was rather upset.
The Packers were already spreading themselves pretty thin financially, but made the decision to push their chips all in for the 2021 season.
There are myriad reasons the Packers felt comfortable paying the former fifth-round pick. It could have been the lack of tread on the tires, the dynamic he brings to the offense, or that he's improved every season he's been in the NFL.
Aaron Jones career arc has been trending upward every season
2017: 81 attempts, 488 yards, 5.5 YPC, 4 TDs | 9 catches for 22 yards
2018: 133 attempts, 728 yards, 5.5 YPC, 8 TDs | 26 catches for 206 yards, 1 TD
2019: 236 attempts, 1,084 yards, 4.6 YPC, 16 TDs | 49 catches  for 474 yards, 3 TDs
2020: 201 attempts, 1,104 yards, 5.5 YPC, 9 TDs | 47 catches for 355 yards, 2 TDs
Aaron Jones is a player that has shown improvement every single year, and has seen his role expand significantly under coach Matt LaFleur.
In LaFleur's offense, Jones has become one of the focal points due to his tremendous versatility. Jones is viewed as so much more than a running back in this offense, he's viewed as a three-down, multi-dimensional weapon that can be deployed almost anywhere on the field.
Sometimes the flow of the game or the game script in general isn't conducive with getting Jones his touches on the ground, however, the Packers still put a premium on getting him the ball by any means necessary.
The UTEP product is both quick and fast, which makes him a threat to take it the distance anytime he finds himself in space.
Despite his size (5-foot-9 208 lbs), Jones is a surprisingly strong runner between the tackles and is absolutely willing to initiate contact to move the pile. His ability to accelerate, make people miss, and his contact balance are what makes Aaron Jones special. In short, he's everything you could want in your lead back.
Aaron Jones is a legitimate threat in the passing game
Little by little, Aaron Jones has become one of Green Bay's most utilized weapons in the passing attack. He's expanded his route tree and now possesses the ability to line up out wide, while still garnering a lot of attention. His presence alone opens up opportunities for his teammates to make plays.
Through the first six weeks this season, Jones has the second-most targets on the entire offense (23) – which only trails Davante Adams. Due to the emergence of second-year running back AJ Dillon, the Packers have worked tirelessly to find a balance in usage between the talented pairing.
Jones' further involvement in the passing game has been the perfect solution due to his ability to pass-protect and catch short passes or operate out wide to create mismatches with linebackers.
Conclusion
While a growing population of fans are not in favor of paying running backs, I think it's more case dependent. Matt LaFleur and the Packers utilize their backs as versatile weapons between the tackles, and also as pass catchers in their deceptive offense.
Players like Aaron Jones make the Packers offense harder to prepare for because he's not pigeon-holed as a between-the-tackles runner, he's utilized all over the field.
The Packers are able to extract every last ounce of value from their tailbacks due to their usage. You can rest assured, the Packers made the right decision re-signing Aaron Jones, because he helps the team now, and will continue to be a focal point of the offense in the future. This would be a vastly different looking offense without the former UTEP star, so to let a dynamic player like himself walk would have been a mistake.
The Packers will get their money's worth, you can take that to the bank.