Packers' offense fails again in season-ending loss to Lions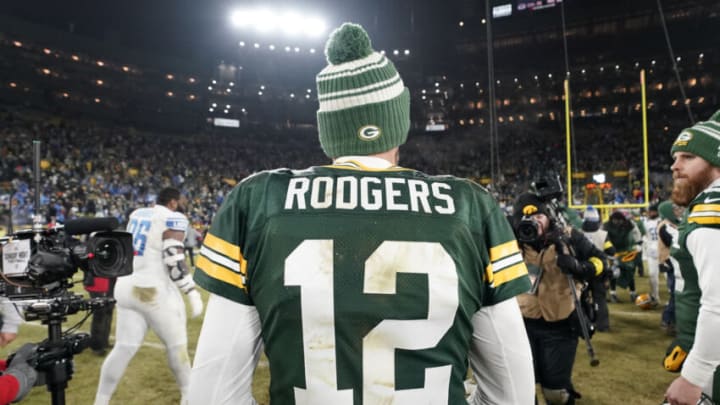 Green Bay Packers, Aaron Rodgers (Photo by Patrick McDermott/Getty Images) /
It was a familiar story for the Green Bay Packers.
A must-win game at Lambeau Field, win-or-go-home, and the offense failed to deliver.
In that sense, there were similarities to last year's early playoff exit at home to the San Francisco 49ers.
Perhaps the only positive takeaway from Sunday Night Football was it prevented the Packers from having to face the Niners again next weekend.
Up against a talented Detroit Lions team, the Packers fell short.
Like in the first meeting between the teams in Week 9, the defense deserves credit. They regularly got off the field and limited the Lions to 20 points, three of which came on a drive where Detroit began in Green Bay territory.
But the offense couldn't get it done.
Despite moving the ball well throughout the game, Green Bay lacked the killer instinct to put the game away. The offense found the end zone only once, forced to settle for field goals four times, of which Mason Crosby converted three.
The offense left points on the board, not just by being limited to field goals, but also by turning the ball over.
Aaron Jones fumbled on the Lions' 24-yard line, having already picked up a first down. The Packers led 9-3 with a little over a minute remaining in the half. Had he held onto the football, Green Bay would've had the chance to go up 16-3 at halftime.
Instead, Detroit moved down the field and kicked a field goal to make it 9-6 at the break.
Late in the fourth, the Packers needed vintage Aaron Rodgers to lead a game-winning drive. Instead, he was intercepted on his final pass of the season.
He was lucky to get away with another pick early in the game, which was called back on a penalty.
Unfortunately, the season ends in familiar fashion. There were no huge special teams errors like last season, but once again, the Packers' offense failed to deliver when it mattered the most.