Packers fans, players react to Aaron Rodgers Jets announcement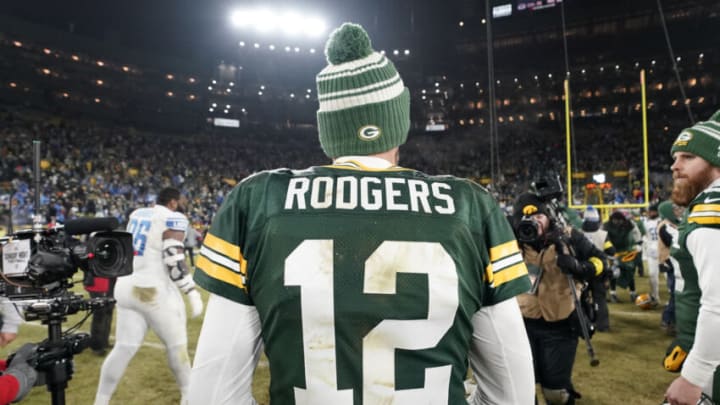 Green Bay Packers, Aaron Rodgers (Photo by Patrick McDermott/Getty Images) /
Aaron Rodgers confirmed on the "Pat McAfee Show" he is heading to the New York Jets, ending his legendary career with the Green Bay Packers.
As expected, with hundreds of thousands tuning into the show, there have been many reactions on social media to the news.
It is an emotional moment for Packers fans, but an exciting one for the Jets.
We start with Aaron Rodgers himself, who had high praise for the Packers' new QB1 Jordan Love.
The great Andy Herman summed it up perfectly. This will be felt across Packers Nation today, there's no doubt about it.
Lombardi Ave's Parker Moes put it perfectly. Well said.
Lombardi Ave's Daire Carragher got an opportunity to see the Hall-of-Famer in his final season with the Packers, a memory to never forget.
With Rodgers' future confirmed, it's time to reflect on his legendary career in Green Bay.
While Packers fans are reflecting on Rodgers' career, Jets fans are on the opposite end. A Hall-of-Fame quarterback is on his way to New York.
You won't find many bigger Jets fans than Gary Vee.
Rodgers won't have Aaron Jones and AJ Dillon to hand the ball to next season, but he has a rising star in Breece Hall, who was excited about the announcement.
And one thing all Jets players must now be wondering is who will join Rodgers in New York?
Andrew Brandt was part of the front office when Green Bay drafted Rodgers and traded Brett Favre to the Jets three years later. History repeats itself.
One thing is for sure, it has been a pleasure to watch Aaron Rodgers play football in Green Bay.
Rodgers receives a lot of criticism, often unfairly, and the "Poor Man's Packers Podcast" hit the nail on the head here.
And what a great way to end the reactions. Aaron Rodgers said on the show that he told ESPN reporter Adam Schefter to lose his number. Schefter confirmed it.