Why Jaxon Smith-Njigba is the guy for the Packers in first round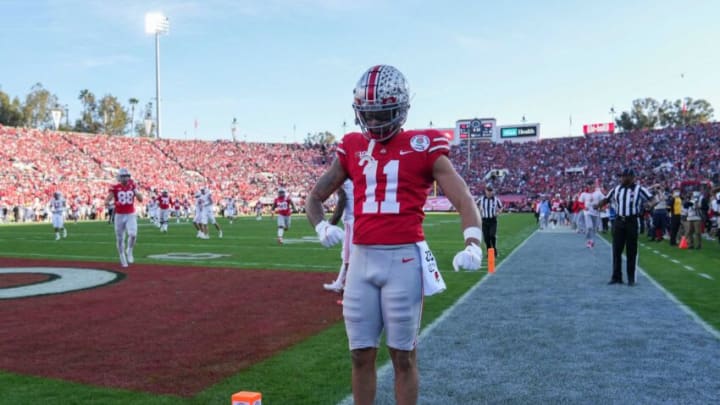 Sat., Jan. 1, 2022; Pasadena, California, USA; Ohio State Buckeyes wide receiver Jaxon Smith-Njigba (11) flexes after scoring a touchdown during the second quarter of the 108th Rose Bowl Game between the Ohio State Buckeyes and the Utah Utes at the Rose Bowl.Rose Bowl Game Ohio State Buckeyes Against Utah Utes /
The Green Bay Packers will have plenty of options at pick 15 in the 2023 NFL Draft, one of those players being Jaxon Smith-Njigba. Here's the case for drafting him in that slot.
It's a long flashback to the 2002 NFL Draft, where the Green Bay Packers made Javon Walker their pick in the first round.
In the last few offseasons, Packers fans clamored for another receiver to pair with Davante Adams. It's hard to forget about passing on Tee Higgins in 2020, the team trying to move up for both Justin Jefferson and Rashod Bateman, and their inability to move up last year as well.
Still, they landed Christian Watson, who was extremely impressive as a rookie. His leap to a WR1 for the Packers should happen next season. Romeo Doubs did well for a fourth-round rookie, and he'll always be in the mix as a WR2 or WR3. Samori Toure and Bo Melton add a little depth.
Despite all that, there's room to get better. If Jordan Love is the starter in 2023, landing another receiver to complete a strong trio would go a long way to helping him out early in his career as a starter.
That receiver might be staring the Packers in the face at pick 15 in Jaxon Smith-Njigba.
Smith-Njigba was a dominant playmaker in 2021, catching 95 passes for 1,606 yards and nine touchdowns. His 15-catch, 347-yard, three-touchdown performance in the Rose Bowl against Utah is a game that will stick with the college football world forever. He only caught five passes for 43 yards in 2022, as injuries kept him from staying on the field.
So far, the 2023 NFL Draft process has played in his favor. His short shuttle and 3-cone times at the combine ranked in the 99th and 98th percentile, respectively. He ran unofficial 4.53 and 4.50 times at the Ohio State Pro Day, and has looked plenty healthy moving around, running routes, and catching the football.
In terms of his fit with the Packers, Jaxon Smith-Njigba might be the perfect player the offense is missing. Watson packs the speed to threaten to carve up a secondary at any moment, and that helps space the field out and gives him opportunities to wreak havoc after the catch. Doubs is a fine chain-moving type who can win on the perimeter.
Smith-Njigba could be the guy who unlocks the middle of the field and provides easy-access throws for Jordan Love. His ability to decipher coverage at the snap and adjust to movement on the fly gives him the ability to find space and open up throwing windows.
As a route runner, Smith-Njigba does a great job attacking leverage and stemming at defenders to mask his intentions, and his short-area quicks are perfect for creating separation at the top of his route. His pacing can freeze defenders or get them to open up early.
At the catch point, Smith-Njigba has great hands, always catching away from his frame. He can make some spectacular plays. His body control is an underrated part of his game. After the catch, he's tough to bring down, even without having the extra gear. He's great at positioning his feet to attack before the ball arrives, and can make defenders miss.
If the Packers see him as a slot-only, fine. He'll dominate in that area of the field. But, he can likely transition to play some "Z" on the perimeter, as evidenced by successful reps against press coverage. Having an answer there with controlled footwork, good balance, and creativity with his release is why he can play out there.
Jaxon Smith-Njigba checks so many boxes for the Packers, and his fit would be seamless as a versatile separator and chain-moving best friend for Love in 2023.