Green Bay Packers: Predicting 2016 regular season record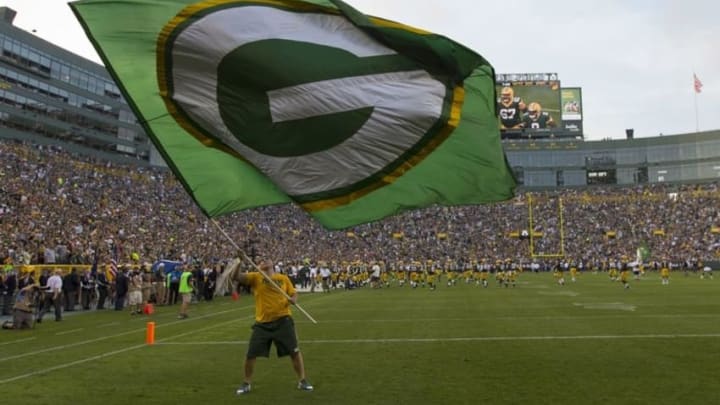 Aug 18, 2016; Green Bay, WI, USA; The Green Bay Packers take the field prior to the game against the Oakland Raiders at Lambeau Field. Mandatory Credit: Jeff Hanisch-USA TODAY Sports /
Dec 3, 2015; Detroit, MI, USA; Green Bay Packers running back James Starks (44) runs the ball during the third quarter against the Detroit Lions at Ford Field. Mandatory Credit: Tim Fuller-USA TODAY Sports /
Week 3
Detroit Lions @ Green Bay Packers
In recent years, no division foe has managed to be more of a consistent thorn in Green Bay's side than Detroit, and it may have reached its highest peak last season.
The Lions finally managed to win at Lambeau for the first time in my lifetime (1991), and were a faulty facemask call & incredible Hail Mary away from a full-on sweep. This comes even with key personnel losses over the years like the calf-stomping terror Ndamukong Suh; somehow, they make things hell on the field against Green Bay, even if the team as a whole usually struggles to stay in the playoff picture most years.
This team experienced another major personnel departure this offseason in Calvin Johnson, but while he was one of the best receivers we've ever seen and has been such an integral piece of the Lions since he was drafted, I don't think we'll see the kind of drop-off expected when a team loses someone of his stature.
The Lions have Golden Tate (he of Fail Mary notoriety), who has been a strong #2 option but has plenty enough talent to take over as a #1 guy, and though his skill-set is vastly different from Johnson he should be able to excel in that role. Newcomer Marvin Jones (10 TDs in 2014) has shown talent in the past and may be able to take the step up as a #2 guy after being in a more crowded offensive group in Cincinnati, and Eric Ebron has the type of talent at TE that could make him a threat (if he begins to tap into his potential). If Matthew Stafford shows more of the play from the latter half of 2015 (2,179 yards, 19 TDs, 2 INTs, 71.5 QBR) than the first half (2,083/13/11/45.7), this offense could be dangerous.
As with the Vikings however, it is the defense of this team that has caused most of the problems for Green Bay recently; after going 17-3 against the Lions in the 2000s, the Packers have only gone 8-4 so far in the 2010s, with multiple memorable happenings brought by that side of the ball.
There was the 7-3 game in 2010 where Rodgers went out with a concussion, a 40-10 Thanksgiving loss in 2013, a 19-7 loss that sent the 2014 Packers to 1-2 in an uninspiring start to the year (notably, LB DeAndre Levy was covering Jordy step-for-step on the last-ditch drive by Green Bay), and the hairline-close games of last season, and of the 12 games played this decade seven have been decided by one score.
The team has some exploitable holes on that defense (their corners beyond Darius Slay are suspect at best, the linebacking corps has weakened over the years, and the defensive line beyond Ezekiel Ansah is either aging or underwhelming), but they seem to step up against the Packers pretty well so I'm foreseeing another ugly rough-&-tumble affair that keeps the score low and is decided late; that's where the main weakness of the team comes into play.
This team has a couple interesting running back options, but while Ameer Abdullah and Theo Riddick are talented, their skills rely more in the passing game; the Lions seem likely to struggle actually running the ball (#27 in Rush Offense DVOA in 2015, with little done to change that particular outlook in the offseason), and that plays into the Packers defense's hands.
Tate & Co. will do some damage and Abdullah/Riddick can too, but the combination of a more consistent pass rush (with Clay Matthews at OLB full-time again) and their strong secondary, Green Bay should force a mistake late and seal a win going into their Week 4 bye.
Green Bay 20
Detroit 16
Green Bay Record: 2-1
Next: Packers bye week