Why Green Bay Packers defeated NY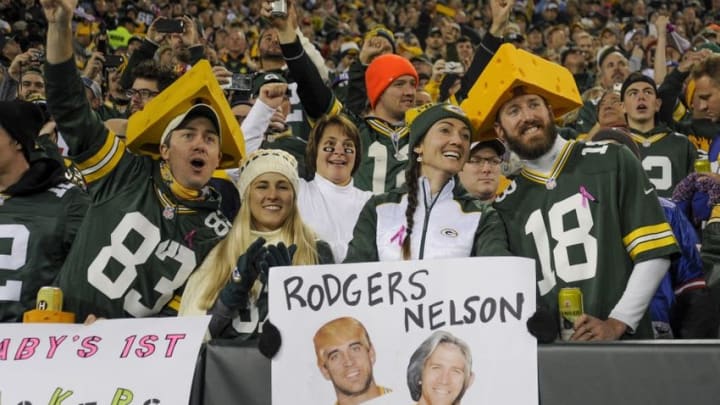 Oct 9, 2016; Green Bay, WI, USA; Green Bay Packers fans cheer during game against the New York Giants at Lambeau Field. Mandatory Credit: Benny Sieu-USA TODAY Sports /
Oct 9, 2016; Green Bay, WI, USA; Green Bay Packers wide receiver Jordy Nelson (87) tries to break a tackle by New York Giants safety Andrew Adams (33) after catching a pass in the fourth quarter at Lambeau Field. Mandatory Credit: Benny Sieu-USA TODAY Sports /
A Quick Return To Creativity
Prior to 2015, the Packers offense was known for their inventive mindset when it came to their offense. We used to see all sorts of creative playcalls, and the way the coaching staff would implement the entire gamut of available skill players not only each week but even within a single drive was a pretty constant staple that made it particularly difficult for defenses to hone in on any specific idea to try stopping them.
Three games into the year however, Green Bay had been showing a lot of the same simple lineups on offense we saw in 2015.
It made at least some sense then; the team was depleted at wide receiver almost all season, and the issues with Eddie Lacy took away another potential option far too often.
With a newly-fit Lacy and 10 different  WR/TE receiving options to pick from, that should have been emboldening Mike McCarthy and Co. to try out more lineups like they used to, but it was not happening.
The first drive changed that.
We saw McCarthy slowing the game down from the usual attempt to stay in hurry-up mode, bringing in new players on practically every snap of the drive.
Outside of Jared Abbrederis, every single active skill position player saw at least one snap on the 16-play drive.
McCarthy also brought in some interesting lineups choices — including having Ty Montgomery line up in the backfield — to further confound the opposing defense's thought process.
With an awesome diving catch from Jordy Nelson in the endzone, the clock-eating 8:42 drive ended with a touchdown.
Unfortunately after this impressive beginning the team reverted to more of the usual basic 3-WR, base personnel, and the offense was stuck in its 2015-style malaise yet again.
The fact that they could come out with these kind of heavily-varied looks at the start though gives hope McCarthy will begin to resort to more of this type of plan going forward.
The drastic difference between the success between these two options is fairly clear (varied looks = success; simple base offense = middling) so it would be a major missed opportunity if they do not adjust for this.