Why Green Bay Packers defeated NY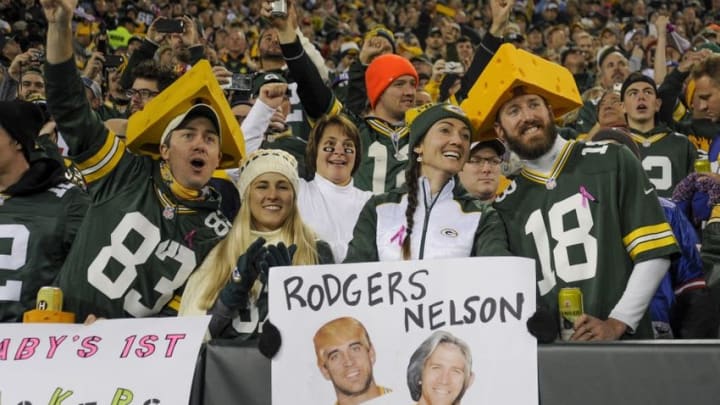 Oct 9, 2016; Green Bay, WI, USA; Green Bay Packers fans cheer during game against the New York Giants at Lambeau Field. Mandatory Credit: Benny Sieu-USA TODAY Sports /
Oct 9, 2016; Green Bay, WI, USA; Green Bay Packers quarterback Aaron Rodgers (12) passes in the third quarter during the game against the New York Giants at Lambeau Field. Mandatory Credit: Benny Sieu-USA TODAY Sports /
Superb Protection
During and after the game, I've seen many people who watched this contest coming away with the exact same feeling I experienced on Sunday night: this was one of the most impressive blocking performances I had ever seen from an offensive line.
On the night, Rodgers dropped back 50 different times; on those dropbacks, he wasn't sacked a single time. Looking beyond just the sacks, it was even more impressive: per Pro Football Focus' analysis, on 75 percent of those dropbacks there was no pressure provided from the Giants' defense.
On 29 of those 50 dropbacks, Rodgers was able to hold the ball for more than 2.5 seconds (he led the week with a 3.28 average time per pass attempt); for many of those, he spent a great deal of time not even needing to consider escaping the pocket.
Between the offensive linemen, they allowed only 7 total pressures in the game. Among Green Bay's highest-graded players (per PFF), three were on the line (center J.C. Tretter had an 86.5 grade, right guard T.J. Lang garnered an 82.7 and LT David Bakhtiari had an 82.3).
The interior for the Giants, while decent against the run most weeks, proved outclassed in pass protection to an embarrassing degree; they got zero push up the middle all night long.
The high-priced, big-name rushers on the edge didn't fare any better either. Jason Pierre-Paul nor Olivier Vernon could find their way around or through Bakhtiari or Bryan Bulaga.
There was one play in particular I keep thinking of in terms of the dominance portrayed by the line. Vernon tried to execute a spin move on Bulaga, but he literally went nowhere; from start to finish, he was completely in Bulaga's grasp, and he was not moved in any direction.
That was the entire night for the Giants encased in a single instance, an astoundingly dominant performance to behold.
This line has proven yet again to be among the best the NFL has to offer, and even if Green Bay's passing game doesn't return to their pre-2015 dominance, these blockers will give Rodgers and Co. every opportunity to try.